It's easy to be green at UOIT
April 2, 2015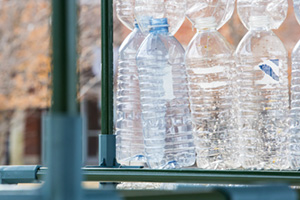 From green roofs to a geothermal well-field, the University of Ontario Institute of Technology embraces green initiatives and environmental sustainability. Recently, the university held a number of events highlighting environmental issues and supporting its Go Green, Stay Blue campaign.
Since the launch of the Go Green. Stay Blue platform in Spring 2014, the university implemented a number of improvements across campus and has been recognized by the Council of Ontario Universities (COU) as a leader in environmental sustainability in the education sector.
Recent initiatives include:
A total of 33 hydration stations installed across campus, and reusable water bottles distributed to faculty, staff and students, which has kept more than 150,000 water bottles out of landfills.
Installation of light harvesting sensors to reduce power demand on sunny days, as well as occupancy sensor lighting systems and dimmable lighting systems in classrooms and offices across campus.
Transition of campus paper supply from virgin sources to 100 per cent recycled content and wheat by-product derived products.
Development of Waste Wise campaign, which includes campuswide literacy signage aimed at educating students, faculty and staff about proper waste streaming and responsible consumption.
Hosting of first-annual Campus Farmers' Market to promote local, sustainable food sourcing.
100 per cent incandescent bulb phase-out across campus, helping meet UOIT's energy-saving and waste-reduction goals.
Recycling non-traditional items, such as writing utensils, through programs like TerraCycle.
Establishing the Blue Team: students committed to sustainable development on campus.
"Raising awareness about sustainability and energy efficiency across campus continues to be a priority for the University of Ontario Institute of Technology – but our work doesn't stop there," said Melissa Mirowski, Asset and Sustainability Planner, Office of Campus Infrastructure and Sustainability (OCIS). "We hope to reach out to the community and communicate how important it is for everyone to keep the environment in mind as we go about our everyday activities, and to come up with solutions that have a long-lasting, positive impact."
Recent events: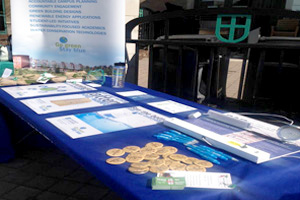 Eco Showcase – April 2

To acknowledge Earth Hour and Earth Day 2015, the UOIT and Durham College sustainability offices, together with the Student Association, hosted an Eco Showcase Pub Day at E.P. Taylor's Pub & Restaurant on April 2. Participants had a chance to check out some live music, browse local vendors, taste the sustainably sourced meal options, and much more!

Water Bottle Greenhouse Showcase – March 31

On March 31, the OCIS showcased its prototype greenhouse, which it is in the process of building out of single-use water bottles. The goal of the project is to demonstrate how materials can be upcycled for good use. Once completed, OCIS will donate the greenhouse to We Grow Food, a local community garden organization.

This project was proposed by a UOIT Blue Team member, and OCIS partnered with the Student Association's Environmental Club to collect water bottles for the construction.

Earth Hour and launch of 28-Day Carbon Reduction Challenge – March 28

The university partnered with the City of Oshawa to hold a free Earth Hour event on March 28 at the Regent Theatre in Oshawa, Ontario. Participants enjoyed a screening of the documentary No Impact Man, which follows a Manhattan, New York-based family as they abandon their high-consumption lifestyle to live a year without making any net environmental impact. They also had a chance to view presentations, check out display booths and receive green tips.

During the Earth Hour event, the university also launched a 28-day Carbon Reduction Challenge, in partnership with the Oshawa Environmental Advisory Committee, Durham College and the Oshawa Public Libraries (OPL). The event will continue until Earth Day on Wednesday, April 22.

The goal of this initiative is to spread the word about how committing to small daily challenges can add up to big environmental and financial savings. Daily challenges will be posted on the city's website, Twitter (#OshEco) and Facebook pages. OPL will also collectt participants' creative ideas on how to reduce carbon emissions, and will provide information and resources to help them with the daily challenges. At the end of challenge, the best tipsters will win eco-friendly prizes. For more information, please visit the City of Oshawa's Environment page.
Gallery