UOIT student Jason Whelan exploring the fascinating world of digital currency
Whelan's experiences included new book by Wall Street Journal writers
July 15, 2015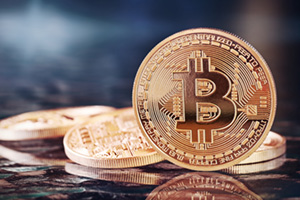 There was a time not that long ago when consumers paying for goods and services needed a credit card account or 'cold hard cash'. If you didn't physically have the cash, you first had to go to a bank or credit union during banking hours to get it.
Most Canadians under the age of 30 have never known a time without debit cards: Canada's very first Interac debit transaction happened in 1990, and Interac has been available nationwide since 1994.
Debit transactions ushered in a brand-new era of international commerce. In 2001, electronic transactions surpassed cash as the most frequent way to make a purchase in Canada. There's been no looking back.
"Today, digital currency is revolutionizing the financial industry in a growing number of ways," says Jason Whelan, who just completed his third year of study in Networking and Information Technology (IT) Security in the University of Ontario Institute of Technology's (UOIT) Faculty of Business and Information Technology (FBIT). "So much is happening and things are changing all the time."
Whalen certainly has plenty of background on the topics of currency, security and privacy, dating all the way back to his high school days in his hometown of Belleville, Ontario.
"I was fascinated with computer networks and gaming as a teenager, and then in 2009 along came the Bitcoin system – a 'peer-to-peer' electronic cash system that was the first decentralized digital currency," says Whelan. "I came across Bitcoin and starting mining (solving mathematical equations with computer hardware to mine 'blocks'), using my gaming computer to generate what I thought was 'magic money'. At the time I didn't really understand the technology or its potential impact. After a while, I stopped and lost access. Today, those few Bitcoins I had mined would be worth about $18,000."
Whelan's personal journey through the early days of digital currency is featured in The Age of Cryptocurrency: How Bitcoin and Digital Money are Challenging the Global Economic Order (Indigo link), a new book written by Paul Vigna and Michael J. Casey of the Wall Street Journal.
"There are many others who have been into Bitcoin since its inception and have either made a lot of money or could have," explains Whelan. "It's important to understand that it's not the monetary value of Bitcoin that's important, it's the innovation. Bitcoin may never fully succeed, but the technology has had a snowball effect on software innovation. A variety of industries with new startups are creating solutions using the theory behind Bitcoin's blockchain technology."
A few years after his personal introduction to digital currency, he decided to study Networking and IT Security at UOIT.
"Being a smaller university, UOIT has offered me incredible opportunities to get involved in networking and security research as an undergraduate. I was doing research in my second year, which would be unheard of in larger universities."
Whelan, who is 2015-2016 President of the UOIT Networking & IT Security Students' Society, does information security research under UOIT's Dr. Khalil El-Khatib, Associate Professor, FBIT.
"I am looking forward to breaking new ground at the intersection of information security, privacy and monetary assets. After graduating in 2016, I hope to work in government or perhaps stay in academia by doing a master's degree in Computer Science. Being a student at UOIT has accelerated my interests, and it is pretty cool to be connected to the book by the Wall Street Journal writers."
Related link: