UOIT supports provincial universities' Going Greener initiative
October 27, 2015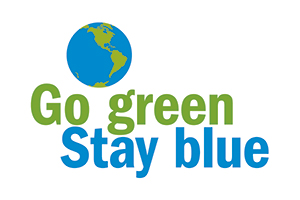 The song says 'it's not easy being green'. In reality, it only takes a bit of work.
The University of Ontario Institute of Technology (UOIT) is proud to continue demonstrating its leadership in environmental sustainability, conservation and in building a greener community.
In 2014, UOIT's Office of Campus Infrastructure and Sustainability (OCIS) launched the Go green, Stay blue platform to facilitate full sustainability integration throughout university operations. Efforts include the development of programs, plans and outreach activities on campus and across the community.
The sixth-annual Council of Ontario Universities' (COU) Going Greener report illustrates how Ontario universities are shrinking their environmental footprint through more than 200 sustainability-focused programs.
UOIT's efforts to be green have been led by OCIS, the university's Sustainability Committee, the Blue Team and the Environmental Club. Activities and initiatives have brought together staff, faculty and students, and helped establish partnership with such groups as:
Durham Region (Smart Commute/Metrolinx)
City of Oshawa
Blancride
Engineers without Borders
UOIT Faculty of Education
"From shoreline cleanups to e-waste recycling to management of storm water and grey water, we are very proud of the progress we have made in such a short time," says Shannon Oletic, Asset and Sustainability Planner, UOIT. "We've distributed reusable water bottles to all staff and students, diverting more than 150 000 water bottles from landfills every year. Our printing promotion has seen the university transition its paper supply to only recycled content and wheat-derived products."
Did you know? Installation of UOIT's water systems (with sensor controls and low flow water features) helps the university save 32 million liters of water per year.
What's new?
In November, OCIS is partnering with the university's Healthy Workplace Committee to launch the We Grow Trees initiative. This challenge will see participants receive an acorn, keep it in a bag in a fridge over the winter, transfer it to soil in a pot in March and then bring it to the OCIS Tree Planting Day and Barbecue in May.
"Participants will identify their tree and be able to watch it grow on campus, allowing them to contribute to positive, tangible environmental change in the UOIT community," says Oletic. "We've submitted We Grow Trees to Pollution Probe's Healthy Communities Campaign which promotes a friendly competition with other communities."
Other upcoming Go Green community activities:
Climate Change Film Event at The Regent Theatre (in partnership with Oshawa Environmental Advisory Committee) – Thursday, November 12
Toxic Chemicals Workshop hosted by Environmental Defence Canada – Thursday, November 26th
Thrift Swap – December 2015 and April 2016
"Universities are teaming up with students, other members of their communities, municipal governments and local businesses to make positive changes," says Bonnie M. Patterson, COU's President and CEO. "They are growing academic programs, designing sustainable buildings, and expanding options for earth-friendly transit. There is increasing interest among students in attending 'green' universities and this report demonstrates not only the strides being made in going greener but also serves as a tool to share best practices to encourage future progress."
Beginning with a sustainability pledge in 2009, universities report annually on their environmental progress through a survey administered by COU. Included in the report are highlights from the 2013-14 Green Universities' Survey, which reflects data from 22 campuses.
COU is the voice of Ontario's universities, promoting the value of education, research and innovation that leads to social, cultural and economic success.
Contact:
Shannon Oletic
Asset and Sustainability Planner, UOIT
sustainability@uoit.ca
ontariotechu.ca/gogreen