Should we remove Sir John A. Macdonald's name from Ontario schools?
Legal Studies expert offers suggestions for meaningful reconciliation with Indigenous peoples
September 28, 2017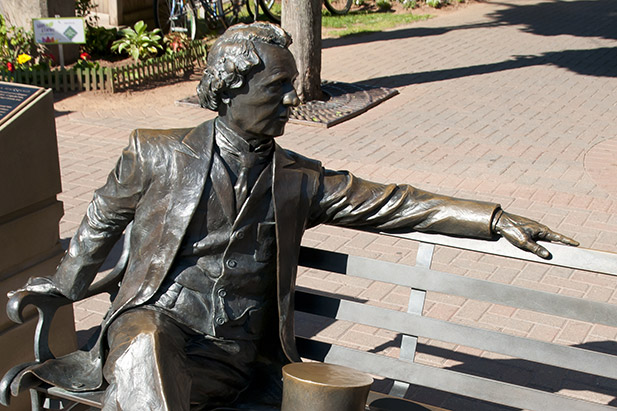 Natalie Oman, PhD, DJur, Legal Studies researcher and Assistant Professor, Faculty of Social Science and Humanities, weighs in on the August 2017 Elementary Teachers' Federation of Ontario (ETFO) motion asking school boards across the province to remove Sir John A. Macdonald's name from schools and buildings:


The Elementary Teachers' Federation of Ontario (ETFO) recently passed a motion calling for school boards to consider renaming schools bearing the name of Sir John A. Macdonald, Canada's founding prime minister. Proponents of the idea feel that stripping Macdonald's name from public schools would be an act of symbolic decolonization, given Macdonald's record in establishing residential schools and the Indian Act, starvation of western First Nations as a tactic to push through the Canadian Pacific Railway, and response to the Northwest Rebellion. However, the call for this discussion originated with ETFO — not with the Assembly of First Nations or any other Indigenous organization, and it's not clear at this point how well it reflects the priorities of most Indigenous Canadians.
One important place to look to discover widely-shared concerns of Indigenous citizens is the 2015 report of the Truth and Reconciliation Commission (TRC). The Commission was created 12 years after the Royal Commission on Aboriginal Peoples called for a national examination of the legacy of the residential school system. The TRC issued 94 calls-to-action that aimed to transform the social and political conditions that perpetuate the consequences of colonialism. Both of these expert bodies drew on thousands of statements by Indigenous Canadians; they might offer a better place to begin a conversation aimed at achieving substantive decolonization of Indigenous peoples' day-to-day lives.
This would entail listening to the public policy priorities articulated by Indigenous peoples themselves and doing the hard work required to re-think the foundations of our systems of education and governance. My own institution, the University of Ontario Institute of Technology, completed a report on Responding to the TRC Recommendations last year, and is engaged now in cross-faculty discussions over how to implement these recommendations in disciplines ranging from Legal Studies to Nursing to Engineering, in a way that respects intellectual freedom and serves the spirit of the TRC's calls to action.
These comments are not intended to dismiss the importance of symbolic decolonization or the concerns raised by the existing ETFO motion. They're simply meant to suggest that at a moment of heightened sensitivity to issues of race and rights, we, as a group of people trying to live together, should think carefully about where we direct our energy and try to dispel misunderstanding. For example, the topic of free, prior and informed consent in the development of natural resources seems like a more pressing subject for building intercultural solidarity. The transformational possibilities of moving toward consensus on that issue seem to justify weathering the social and political fallout of furious Twitter exchanges and heated editorials in a way that the subject of ETFO's motion may not, at this moment.
Finally, and as an aside, it's worth noting that the reason 10 Ontario schools are named after Macdonald is not to memorialize his culturally genocidal and violent policies regarding Indigenous peoples. What Macdonald is honoured for is his role in helping to imperfectly craft a country built on diverse identities — regional, linguistic, and religious. Today, we are still working to address the grave legacy of the exclusionary failures and discriminatory biases of that product, especially those suffered by Indigenous Canadians. But the project itself -— of trying to find a way to live together, despite our differences — must lie at the heart of what it means to be a citizen of this country today. This is partly the case because of the consequences of the dispossession, murder, systemic discrimination and racism that Indigenous peoples have endured.
In my view, the value in ETFO's call lies in the way it is revealing differences in the public policy priorities of many Indigenous and non-Indigenous Canadians, and in the opportunity it provides for us to think about how to honour the work of the TRC and all of those who shared their experiences and expertise with the Commissioners. In offering his own response to this debate in The Globe and Mail, Robert Jago of the Kwantlen First Nation suggested that perhaps the most helpful way ETFO could fulfil its unique role representing teachers would instead be to call on school boards to devote an annual professional development day to listening to Indigenous parents, teachers, elders and youth about their needs and priorities. I can't think of a better contribution to make to this discussion than to second his suggestion.