Ontario Tech scholar conducting vital research into maltreatment of older adults
Dr. Joshua Wyman awarded prestigious federal Banting Postdoctoral Fellowship
August 13, 2020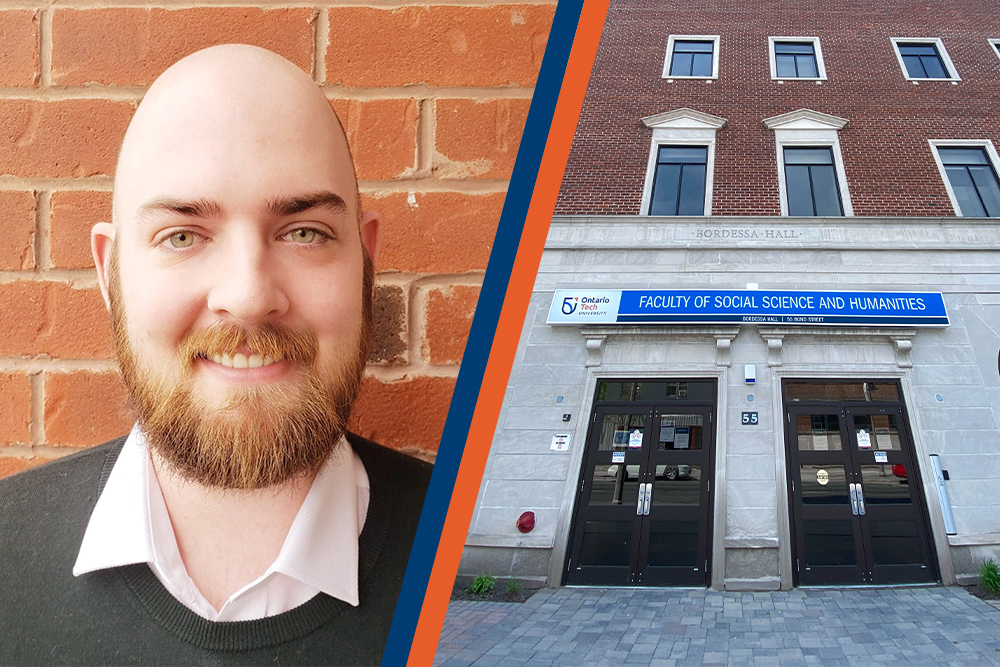 The aging of the world's population represents an unprecedented global demographic shift. Currently in Durham Region, about one-quarter of residents are age 55 or older, a number that's expected to jump to one-third of the population by 2031. In the next few decades, gathering information from older adults in particular will be of utmost importance to legal and health professionals and policymakers to ensure everyone's well-being.
To help find these answers, Ontario Tech University postdoctoral fellow Joshua Wyman, PhD will conduct critical forensic psychology research relating to the welfare of older adults, along with Lindsay Malloy, PhD, Associate Professor in the Faculty of Social Science and Humanities (FSSH).
Dr. Wyman was recently awarded the Banting Postdoctoral Fellowship, a prestigious Government of Canada award that funds the country's top scholars to help them positively contribute to Canada's economic, social and research-based growth. Banting Fellows receive $70,000 per year for two years. Only 70 fellowships are available annually.
Dr. Wyman and Dr. Malloy will investigate how older adults and health professionals conceptualize and report maltreatment of older adults. They will also identify potential ways to improve current police investigative methods for these crimes.
Findings will not only advance theoretical understanding of disclosure processes among an understudied vulnerable population, but also provide vital information about how to better train and support those involved in the identification, assessment and investigations of maltreatment of older adults.
Ontario Tech is one of the few universities in Canada designated an 'age-friendly university', an accolade that recognizes the university's commitment to lifelong learning. Dr. Wyman's proposed work concerning maltreatment among older adults—a highly vulnerable population at disproportionate risk of victimization—will significantly contribute to ongoing age-friendly initiatives at Ontario Tech. The research will also lead to new connections and promote FSSH's overarching goal to conduct rigorous research on pressing social problems.
Quotes
"We are thrilled to have Dr. Joshua Wyman join us as a Banting Postdoctoral Fellow. There is clear synergy between Ontario Tech's strategic priorities and his problem-based research activities, which will significantly contribute to the understanding of elder abuse and to evidence-based practices for health and law professionals. We welcome Dr. Wyman to our community and wish him a most productive and rewarding two-year fellowship."
-Dr. Langis Roy, Dean, School of Graduate and Postdoctoral Studies, Ontario Tech University
"This award and opportunity would not have been possible without the many supervisors, teachers, friends and family who have supported me throughout my life. This award is a reflection of all the amazing people who helped me along the way."
-Dr. Joshua Wyman, Banting Postdoctoral Fellow, Ontario Tech University
"I am absolutely thrilled to have Joshua join our lab at Ontario Tech as a Banting Fellow. He is a top-notch scholar with brilliant ideas and the determination and skills to bring them to fruition. Dr. Wyman's receipt of the prestigious Banting Fellowship will not only be transformational for his career and professional development, but also for Ontario Tech University and for the older adults who stand to benefit from his timely research."
-Dr. Lindsay Malloy, Associate Professor, Forensic Psychology, Faculty of Social Science and Humanities, Ontario Tech University
---
Media contact
Bryan Oliver
Communications and Marketing
Ontario Tech University
289.928.3653
bryan.oliver@ontariotechu.ca