UPDATE: Parking restrictions in Founders Lot 1 this spring
March 24, 2021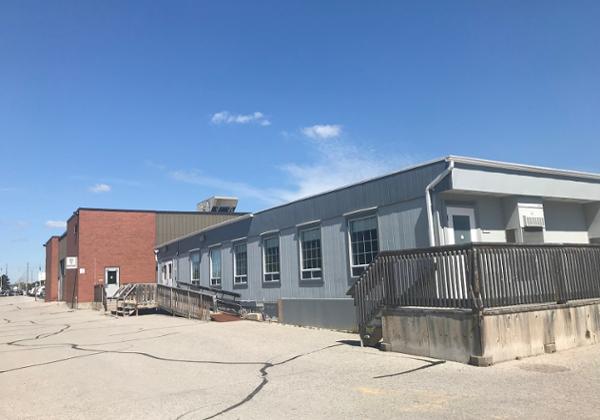 Note: See updated tentative dates in the parking restrictions section of this announcement.
In anticipation of the opening of the university's new building (currently designated as 'A5') in Fall 2021, the J-Wing portable connected to the south side of the J Building (north Oshawa campus location) will be permanently removed from campus as it is no longer needed.
To accommodate the removal, access to Founders Lot 1 will be limited starting at the end of March and continuing through to mid-April.
On the day the portable is removed from campus, there may be traffic delays, and the sidewalk immediately north of Founders Lot 1 will be unavailable for pedestrian use.
See details on parking, traffic and sidewalk restrictions below.
Once the portable is removed, the area will be converted to green space (planned to be completed by Spring 2021).
Parking restrictions:
In preparation for the portable removal, 42 parking spaces south of the portable and extending east to Durham College's Student Services Building will be fenced off and temporarily unavailable.
The removal of the portable will be from Monday, April 19 through Friday, April 23. The lot will be entirely closed. As an alternative, please park in Founders Lot 2.
After the removal, a row of parking spaces adjacent to the portable site may remain fenced-off while the area is converted to green space.
View a map of parking lot restrictions.
Lane restrictions:
On the day the portable is removed from campus, expect single-lane restrictions and potential traffic delays near the north end of Founders Drive.
Sidewalk closures:
The sidewalk that runs along the south side of Founders Gate (directly north of Founders Lot 1) will be temporarily closed on the day the portable is removed from campus. As an alternative, pedestrians should use the sidewalk along the north side of Founders Gate.
Accessing the J Building:

The south entrance that connects the J Building to the portable will be closed beginning the week of March 24 until the conversion to green space is complete. The north entrance will remain open; please follow the directional signage.
Additional information:
For safety, pedestrians and motorists should obey signage and construction personnel, and avoid the construction area.
Weather permitting, the removal of the portable is scheduled for completion by mid-April and the site converted to green space by the end of spring. Updates will be posted as they become available.
Your patience and understanding are appreciated.
For construction-related inquiries, contact Patrick Neil, Senior Project Manager, Office of Campus Infrastructure and Sustainability.