New campus library to offer students electronic and traditional learning
June 6, 2003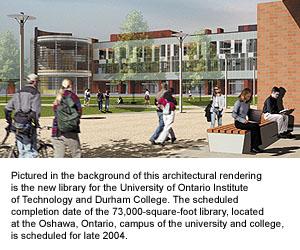 Oshawa, ON - The start of construction of a new, state-of-the-art library for the University of Ontario Institute of Technology and Durham College was celebrated here today by students, faculty, staff, dignitaries and community members.
Designed by internationally renowned Diamond and Schmitt Architects Incorporated, the 73,000-square-foot library will serve students, faculty and staff at both institutions. The four-storey, $20.7-million library will house individual and collaborative learning spaces, research workstations, electronic classrooms, a round pavilion with a reading room and periodicals collection, and other facilities. Its design also allows for future enlargement, up to double the original size. The scheduled completion date of the library is late 2004.
Thanks to the library's wireless environment, students will be able to work individually or collaboratively anywhere in the building. For students in traditional college programs, the library will offer 100 computer workstations.
"The library remains the nucleus of post-secondary learning," said Gary Polonsky, president of the University of Ontario Institute of Technology and Durham College. "With advanced online and traditional resources from around the world, our library will be able to support faculty in their research and students in their learning."
"Giving our students the skills and knowledge they need to succeed is one of the most important building blocks in our plan for Ontario's future economic success. UOIT is part of that plan," said Janet Ecker, MPP Pickering-Ajax-Uxbridge. "This new library will be an excellent resource to complement the high-quality programs that the university will offer its students."
The new library is part of a major campus renewal undertaken to accommodate the establishment of the University of Ontario Institute of Technology as well as continued growth at Durham College. This September, the first academic building for the university as well as the first phase of a new residence for university and college students will be ready. Scheduled completion of the second university academic building, now underway, is September 2004. Over the next three years, several other buildings will be constructed, including two more academic buildings for the university.
About the University of Ontario Institute of Technology
As Canada's newest university, the University of Ontario Institute of Technology will provide a unique combination of academic knowledge, vibrant student life, leading-edge research and hands-on skills. The university will offer nine degree programs initially and will share selected facilities with Durham College. Currently under development in Oshawa, Ontario, the university will welcome its first students this September. For more information, visit www.uoit.ca or call 1.866.844.8648.
About Durham College
For 35 years, Durham College has been committed to providing job-focused programs, accomplished professors, quality-driven innovation, student success and superior accountability. The college offers nearly 100 programs in the post-secondary, apprenticeship, access and specialty areas and employs approximately 2,300 full-time and part-time staff. For more information, visit http://www.durhamc.on.ca/ or call 905.721.2000.
---
About Ontario Tech University
Ontario Tech University advances the discovery and application of knowledge through a technology-enriched learning environment and the delivery of innovative market-driven programs responsive to the needs of students and industry. With more than 10,000 undergraduate and graduate students enrolled in more than 90 programs, the university promotes social engagement, fosters critical thinking and integrates outcomes-based learning experiences inside and outside the classroom. The university's commitment to accelerating economic growth and social innovation is realized through faculty research collaborations with leading organizations such as Ontario Power Generation, IBM, The Hospital for Sick Children (SickKids) and the Durham Regional Police Service. To find out more, visit ontariotechu.ca.