Canada's newest university exceeds first-year enrolment projection
June 19, 2003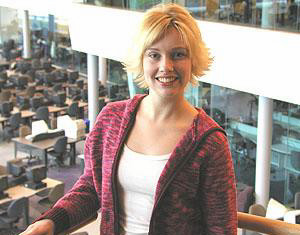 Oshawa, ON - Canada's newest university, the University of Ontario Institute of Technology, is extremely pleased to report that more than 800 students have confirmed their enrolment as part of the university's first class in September.
"We're delighted to report that this figure has exceeded our initial first-year enrolment projection of 693 students," notes Richard Levin, vice-president of Strategic Enrolment Management and Registrar. He adds, "the university still has space available in certain programs for qualified students."
The more than 800 students are spread over the university's nine undergraduate degree programs including nuclear engineering, manufacturing engineering, biological science, physical science, radiation science, nursing, education, justice studies and commerce.
"The University of Ontario Institute of Technology has attracted high-quality students with exceptional academic achievements, as well as community commitment and leadership," adds Levin.
Opening in September in Oshawa, Ontario, the university will welcome its first class with innovative, teaching- and research-focused faculty, state-of-the-art facilities and a new residence overlooking a creek and conservation area. A new library and several other academic buildings are under development to accommodate campus growth and enrolment.
Graduating secondary school students who still wish to attend the University of Ontario Institute of Technology in September can visit the Ontario Universities' Application Centre Web site (http://www.ouac.on.ca/) to check for available space in programs. As well, the university continues to accept applications from non-secondary school students for enrolment in September. For more information on the University of Ontario Institute of Technology, visit www.uoit.ca, e-mail admissions@uoit.ca, or call 1.866.844.8648.
---
About Ontario Tech University
A modern, forwarding-thinking university, Ontario Tech advances the discovery and application of knowledge to accelerate economic growth, regional development and social innovation. We inspire and equip our students and our graduates to make a positive impact in a tech-focused world. For us, it's not only about developing the next tech breakthrough. Understanding and integrating the social and ethical implications of technology differentiates us as university. Learn more at ontariotechu.ca.