Lyn McLeod named as UOIT's Founding Chancellor
April 20, 2004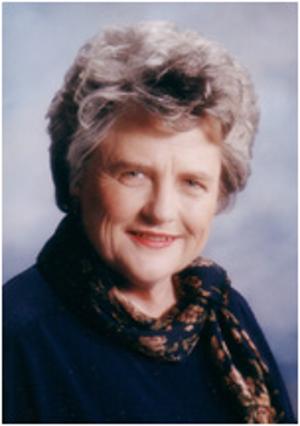 OSHAWA, Ont. - Ontario's newest university announced today that distinguished political leader Lyn McLeod will be formally installed as its Founding Chancellor during its first convocation on June 4.
"We're absolutely thrilled about this," said Dr. Gary Polonsky, President and Vice-Chancellor of the University of Ontario Institute of Technology. "Without a doubt, Lyn is one of Ontario's most respected leaders and educators. She is a model of the vision we have for our students as thinkers, doers and leaders.
"She will be a tremendous inspiration to our students," he added, "and will make an invaluable contribution to the university."
A resident of Thunder Bay, Ont., McLeod served in elected political office locally and provincially for 33 years before her retirement in October 2003. In 1992, she became the first woman in Ontario to be elected as the leader of a political party. She was leader of the Ontario Liberal Party until 1996, and later served as Opposition critic for education and, following that, as health critic. She is currently the national spokesperson for the Centre of Excellence for Children and Adolescents with Special Needs, which conducts research and disseminates information about young people with special needs in rural and northern communities. McLeod also serves as a vice-chair on the board of governors of Confederation College in Thunder Bay.
"I'm very honoured and very excited to be part of such a new venture," said McLeod. "UOIT is innovative and unique, and, in the years to come, will really set a pace for the articulation of programs between the university and college systems that will be unparalleled. It offers just tremendous opportunities for students."
"I believe," she added, "that the university will open doors to education for people in Durham Region and far beyond that haven't been opened before."
Under the UOIT Act (2002), the university has a special mission to provide career-oriented degree programs and to design and offer programs that create new opportunities for college graduates to complete university degrees. The academic year for UOIT's first class of approximately 940 students is coming to a close this week.
McLeod will confer degrees upon the university's first graduates from the Faculty of Education on June 4. This will follow her installation as Chancellor, and Dr. Polonsky's installation as President and Vice-Chancellor.
Prior to her election to the Ontario Legislature, McLeod served for 17 years as a public school trustee in Thunder Bay, including seven years as chair. In 1998, the Ontario Public School Boards' Association presented her with the Bernadine Yackman Memorial Award to recognize her exceptional contribution to public education. She is also a former recipient of the Lamp of Learning Award, presented by the Ontario Secondary School Teachers' Federation, and received Lakehead University's Alumni Honour Award in 1993.
McLeod has a master's degree in psychology from Lakehead University. She and her husband, Dr. Neil McLeod, a family physician in Thunder Bay, have four daughters, two grandsons, and two granddaughters.

About the University of Ontario Institute of Technology
As Ontario's newest university, the University of Ontario Institute of Technology provides a unique combination of academic knowledge, vibrant student life, leading-edge research, and hands-on skills. The university offers career-focused undergraduate degree programs in the fields of business and information technology, sciences, engineering, nursing, justice studies, and education. It is also developing leading-edge research and graduate programs. Sharing selected services with Durham College, the university welcomed its first students in September 2003. To find out more, visit www.uoit.ca, or call 1.866.844.8648.
---
About Ontario Tech University
A modern, forwarding-thinking university, Ontario Tech advances the discovery and application of knowledge to accelerate economic growth, regional development and social innovation. We inspire and equip our students and our graduates to make a positive impact in a tech-focused world. For us, it's not only about developing the next tech breakthrough. Understanding and integrating the social and ethical implications of technology differentiates us as university. Learn more at ontariotechu.ca.
---
Media contact
John Schofield
Communications and Marketing
Ontario Tech University
905.721.3111 ext. 2162
john.schofield@uoit.ca