Grand opening of campus Library and new academic buildings
October 29, 2004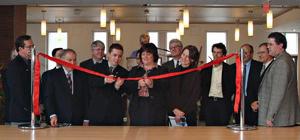 OSHAWA, Ont. - Today, Friday, October 29, marks the grand opening of the campus Library, the Science and the Business and IT buildings on the campus of the University of Ontario Institute of Technology (UOIT) and Durham College in Oshawa.
This event, to be held in the two-floor study hall of the Library, will take place from 2 to 3 p.m.
Special guests attending the event will include community partners, faculty and staff, students, retirees, local government officials, educational colleagues, and members of federal and provincial parliament including Jeff Leal, Parliamentary Assistant to the Minister of Training, Colleges and Universities.
Scheduled speakers include the Mayor of Oshawa John Gray, Donald Schmitt, principal of Diamond and Schmitt Architects Inc., Bruno Antidormi, vice-president, Toronto Area Manager of EllisDon Construction, and several members of the UOIT/Durham College community including Dr. Gary Polonsky, President of both Durham College and UOIT.
In addition, a special announcement will be made regarding a generous gift from a local community member to the Library.
Tours are available through all three buildings following the ceremonies.
A backgrounder of all three buildings, as well as photographs, is also available upon request.
About the University of Ontario Institute of Technology
As the province's newest university, the University of Ontario Institute of Technology provides a unique combination of academic knowledge, vibrant student life, leading-edge research, and hands-on skills. The university offers career-focused undergraduate degree programs in the fields of business and information technology, sciences, engineering, nursing, social science, and education. It is also developing leading-edge research and graduate programs, and is Ontario's first laptop-based university. Sharing facilities and selected services with Durham College, UOIT has over 1,800 students following 12 months of operation. To find out more, visit www.uoit.ca or call 1.866.844.8648.
---
About Ontario Tech University
A modern, forwarding-thinking university, Ontario Tech advances the discovery and application of knowledge to accelerate economic growth, regional development and social innovation. We inspire and equip our students and our graduates to make a positive impact in a tech-focused world. For us, it's not only about developing the next tech breakthrough. Understanding and integrating the social and ethical implications of technology differentiates us as university. Learn more at ontariotechu.ca.
---
Media contact
Tania Henvey
Communications and Marketing
Ontario Tech University
905.721.3111 ext. 2513
tania.henvey@dc-uoit.ca