IBM's 100th anniversary celebration features Dr. Carolyn McGregor
June 21, 2011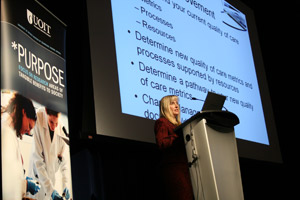 International Business Machines (IBM) is marking its centennial this year with a new short film that profiles four of its leading collaborative researchers whose questioning minds and unconventional ideas the company says are transforming our world.
One of the four IBM clients whose inspirational stories are featured in the IBM centennial film Wild Ducks is UOIT researcher Dr. Carolyn McGregor, Canada Research Chair in Health Informatics and associate professor, cross-appointed to UOIT's Faculty of Business and Information Technology and Faculty of Health Sciences.
Dr. McGregor's innovative work involves a first-of-its-kind neonatal health informatics research project that she is leading with IBM, The Hospital for Sick Children in Toronto, Ontario and other partners around the globe.Critical care units across the globe boast state-of-the art medical equipment that constantly monitor vital organs. However, these units have arrived at a critical crossroad because the ability of the equipment to gather information has outpaced the ability to aggregate and interpret the data in a clinically meaningful way.
Known as the Artemis Project, Dr. McGregor's research is helping make sense of the constant stream of data collected from critically ill premature babies so that doctors in the future will be able to better recognize subtle changes in a patient's condition. With physicians having the information they need to intervene more quickly, there is great hope for reducing mortality rates in premature babies here in Canada and around the world.
In 2009, Dr. McGregor received IBM's InfoSphere Innovation Award at the IBM Global Information on Demand Conference in Las Vegas. In February 2011, she was one of two UOIT faculty members presented with the university's prestigiousResearch Excellence Award which recognizes commitment to research with a global impact.
In addition to her recognition in Wild Ducks, Dr. McGregor's research was also recently featured in a story that appeared inTimes of London, the Wall Street Journal and the Australian.
---
About Ontario Tech University
Ontario Tech University advances the discovery and application of knowledge through a technology-enriched learning environment and the delivery of innovative market-driven programs responsive to the needs of students and industry. With more than 10,000 undergraduate and graduate students enrolled in more than 90 programs, the university promotes social engagement, fosters critical thinking and integrates outcomes-based learning experiences inside and outside the classroom. The university's commitment to accelerating economic growth and social innovation is realized through faculty research collaborations with leading organizations such as Ontario Power Generation, IBM, The Hospital for Sick Children (SickKids) and the Durham Regional Police Service. To find out more, visit ontariotechu.ca.