UOIT researcher receives major funding to lead international team in clean hydrogen production
July 28, 2011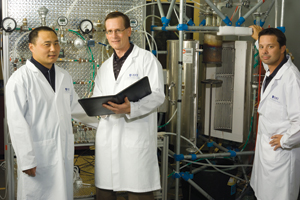 OSHAWA, ON - Ongoing hydrogen production research at the University of Ontario Institute of Technology's (UOIT) Clean Energy Research Laboratory (CERL) is receiving a major boost thanks to new funding announced by the Ministry of Research and Innovation (MRI) through its Ontario Research Fund-Research Excellence (ORF-RE) program. The MRI commitment will support CERL's principal investigator Dr. Greg Naterer and his research team as they lead an international consortium that is developing the first integrated and large-scale water splitting technologies called the copper-chlorine (Cu-Cl) cycle, as well as solar photocatalysis. The project is valued at nearly $10 million over a five-year period. 
The project includes cash and in-kind funding from MRI ($2.54 million), Atomic Energy of Canada Limited (AECL; $1 million), the University Network of Excellence in Nuclear Engineering (UNENE; $0.5 million), Phoenix Canada Oil Ltd. ($1.2 million), among several other industry and university funding partners. The 33-member team comprises eight collaborating institutions and universities from five countries, six industrial partners and two local organizations in Durham Region.
"This is a tremendous achievement for Dr. Naterer and his team of international leaders to succeed in this highly competitive program," said Dr. Michael Owen, associate provost, Research, UOIT. "The ORF-RE investment, along with the investment by our industry partners, is a demonstration of the international standards of our leading researchers and a statement of confidence in UOIT's capacity to lead research that has the ability to secure a high quality, reliable and sustainable energy supply over the coming decades."
The global market for hydrogen is estimated at $300 billion annually. The technology being developed by Dr. Naterer and his team holds tremendous economic potential for Ontario to develop a new industrial sector of clean fuel production in a world hydrogen market that is growing at over 10 per cent a year.
"Through this project, our exceptional team aims to position Durham Region on the world stage with the world's first integrated Cu-Cl plant and photocatalytic system for hydrogen production from water using nuclear or solar energy," said Dr. Naterer, Canada Research Chair in Advanced Energy Systems and associate dean, Faculty of Engineering and Applied Science, UOIT. "Hydrogen is a potentially major solution to the problems of climate change and depleting conventional fuels. It is a clean fuel that can be used to heat our homes, supply fuel for vehicles, power our equipment, and for many other everyday applications that currently use oil, coal or natural gas."
Industry and community partners: AECL; UNENE; Ontario Power Generation; Phoenix Canada Oil Company Limited; Gerdau; St. Mary's Cement; Marnoch Thermal Power; Durham Strategic Energy Alliance; and the Regional Municipality of Durham.
UOIT team: Dr. Greg Naterer; Edward Secnik (project manager); Dr. Zhaolin Wang; Dr. Ibrahim Dincer; Dr. Kamiel Gabriel; Dr. Marc Rosen; Dr. Brad Easton; Dr. Igor Pioro; Dr. Liliana Trevani; Dr. Brian Ikeda; Dr. Ghaus Rizvi; Dr. Lixuan Lu; Dr. Matthew Kaye; Dr. Dan Zhang; and Dr. Franco Gaspari.
Ontario partners: Dr. Jin Jiang (University of Western Ontario); Dr. Javad Mostaghimi, Dr. Vladimiros Papangelakis (University of Toronto); Dr. Michael Fowler (University of Waterloo); and Dr. Gillian Goward (McMaster University).
International partners: Dr. Shabbir Ahmed and Dr. Magali Ferrandon (Argonne National Laboratory, Argonne, Illinois); Dr. Serguei Lvov (Pennsylvania State University, University Park, Pennsylvania); Dr. Jurij Avsec (University of Maribor, Slovenia); Dr. Daniel Pasquevich (Atomic Energy National Commission, Argentina); and Dr. Iordach Ioan (National Hydrogen and Fuel Cell Centre, Romania).
-30-
About UOIT
As an innovative university, UOIT delivers a leading-edge learning environment that uniquely combines academic knowledge, research opportunities, hands-on skills and a vibrant student life. UOIT's more than 7,400 undergraduate and graduate students are taught by professors who are experts in their fields from around the world. As Ontario's first laptop-based university, the university offers a diverse array of challenging undergraduate and graduate degree programs through its faculties of Business and Information Technology; Education; Energy Systems and Nuclear Science; Engineering and Applied Science; Health Sciences; Science; and Social Science and Humanities. UOIT's commitment to research excellence has resulted in millions of dollars in grants and awards, including five Canada Research Chairs. To find out more, visit www.uoit.ca or call 905.721.8668.
---
About Ontario Tech University
A modern, forwarding-thinking university, Ontario Tech advances the discovery and application of knowledge to accelerate economic growth, regional development and social innovation. We inspire and equip our students and our graduates to make a positive impact in a tech-focused world. For us, it's not only about developing the next tech breakthrough. Understanding and integrating the social and ethical implications of technology differentiates us as university. Learn more at ontariotechu.ca.
---
Media contact
Bryan Oliver
Communications and Marketing
Ontario Tech University
905.721.8668 ext. 2209
289.928.3653
bryan.oliver@uoit.ca