UOIT students create waste management online game for Region of Durham website
March 9, 2012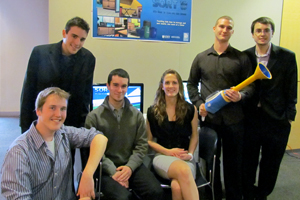 The Regional Municipality of Durham has launched a new online game on its Waste Management Services website that was developed in partnership with UOIT students in Faculty of Business and Information Technology (FBIT).
The fun and educational game Sort 'Em Up allows website visitors to vacuum up various recycling, composting and waste items throughout a messy house, then score points by shooting the items into the proper disposal bin.
Sort 'Em Up was developed through FBIT's Capstone program, which provides students with an opportunity to apply their skills by working on a real-world project with an actual business or organization. In this case, five students were matched with staff from two Region of Durham departments; Waste Management and Corporate Services-Information Technology.   
"The Capstone program is open to fourth-year students in business, IT and game development programs, said Athina Hall, Capstone project director. "This course is designed to achieve an academic deliverable and provide the students with hands-on experience by partnering with internal and external clients."
"Our residents are great about sorting their waste, however, sometimes people forget to sort their waste in all the areas of their house – diversion should happen everywhere, not just in the kitchen," said Gioseph Anello, manager, Waste Planning and Technical Services, Durham Region. "After the positive experience we had with our first online game, Salvage Frenzy, we decided to work with UOIT again to come up with another game to encourage residents to sort waste in every room of the house."
Sort 'Em Up was just one of six Capstone Game Development team projects showcased at this year's FBIT's Game Demo Day. Each Capstone team provided demonstrations of their game project and chatted with members of the public about their work. The showcase was reported in a newscast by Studio 12 CHEX Television Durham.
To play Sort 'Em Up, visit the Region of Durham's Waste Management website and look for the Sort 'Em Up game in the Videos and Games section. The game Salvage Frenzy can also be found in the same section.