UOIT automotive engineer awarded research funding
AUTO21 injects $22 million into Canada's automotive research community
May 30, 2012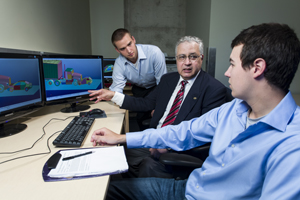 MONTREAL, QC  - Protecting vehicle passengers in side crashes with trucks, helping Canadian seniors drive safely and advancing electric vehicle technologies are just a few of the projects that will benefit from a $22 million investment by Canada's automotive research program, the AUTO21 Network of Centres of Excellence. The funding will support 40 automotive R&D projects at Canadian universities in partnership with more than 100 public and private sector companies.
Among the projects being funded is a collaborative research effort headed by the University of Ontario Institute of Technology (UOIT). Dr. Moustafa El-Gindy, associate professor, Faculty of Engineering and Applied Science (FEAS) is leading a team of researchers in a project valued at $515,770 over two years to develop new protection devices for side crashes involving passenger vehicles and large trucks. Dr. El-Gindy's project also involves Volvo Group Trucks Technology, the Canada Foundation for Innovation, the Government of Saskatchewan Ministry of Highways and Infrastructure, the University of Regina and the Concordia Centre for Advanced Vehicle Engineering (CONCAVE) at Concordia University in Montreal, Quebec.
The funding was announced by the Honourable Gary Goodyear, Minister of State, Science and Technology, at the AUTO21 conference in Montreal, Quebec. The $22 million will support the projects for two years and includes $10 million from the Government of Canada through the federal Networks of Centres of Excellence program. The remaining $12 million consists of contributions from Canada's automotive sector, including numerous automakers, parts manufacturers and material suppliers.
"Our government's first priority is the economy—creating jobs, growth and long-term prosperity," said Minister of State Goodyear. "The ideas, products and technologies generated by these AUTO21-funded research projects will create jobs and businesses, help develop highly skilled people, strengthen our economy and improve the long-term competitiveness of our Canadian automotive industry."
"With their industry partners, AUTO21 researchers are developing solutions for cleaner, safer vehicles and roads," said Stephen Beatty, chair of the AUTO21 board of directors and managing director of Toyota Canada Inc. "The projects supported by this investment will provide solutions to the issues most pressing in today's automotive sector while providing training to hundreds of Canadian graduate students."  
"The research focuses on two streams of improving side underride collision safety," said Dr. El-Gindy. "First is the development of passive guards to act as a physical barrier to an automobile wedging under a commercial vehicle. Second is the development of automobile safety mechanisms such as pre-emptive deployment of airbags in a collision through the use of wireless and sensor technologies."
"UOIT is extremely proud of the outstanding innovative research Dr. El-Gindy continues to champion in collaboration with his research partners," said Dr. Michael Owen, associate provost, Research. "We anticipate that findings from this project will lead to future commercialization opportunities with industry and ultimately make Canadian vehicles and highways safer down the road."
Nearly 200 academic researchers will contribute to the 40 projects announced by AUTO21, which will also provide training opportunities to about 400 graduate students. Topics include advanced material research, biofuels and clean diesel, children's vehicle safety in Aboriginal communities, and improvements to manufacturing processes. A full list and summaries of projects is available at www.auto21.ca.
About AUTO21
AUTO21 supports research projects in six key areas: health, safety and injury prevention; societal issues; materials and manufacturing; design processes; powertrains, fuels and emissions; and intelligent systems and sensors. A recent independent economic impact study of AUTO21 projects estimates that Network research is generating more than $1.1 billion in economic and social benefits to Canada. AUTO21 is supported by the Government of Canada through a Networks of Centres of Excellence program, and its administrative centre is hosted by the University of Windsor.
---
About Ontario Tech University
A modern, forwarding-thinking university, Ontario Tech advances the discovery and application of knowledge to accelerate economic growth, regional development and social innovation. We inspire and equip our students and our graduates to make a positive impact in a tech-focused world. For us, it's not only about developing the next tech breakthrough. Understanding and integrating the social and ethical implications of technology differentiates us as university. Learn more at ontariotechu.ca.
---
Media contact
Bryan Oliver
Communications and Marketing
Ontario Tech University
905.721.8668 ext. 2209
bryan.oliver@uoit.ca