Ontario Tech University researcher part of national panel discussion on Canada's future
June 18, 2012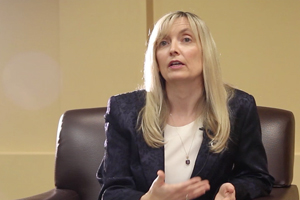 Dr. Carolyn McGregor of Ontario Tech University and Canada Research Chair (CRC) in Health Informatics recently shared some of the findings of her Artemis research project during the 2012 Congress of the Humanities and Social Sciences held at Wilfrid Laurier University in Waterloo, Ontario.
The CRC's interdisciplinary panel discussion focused on the future challenges that lie ahead for Canada over the next five, 10 and 20 years. Thinking Ahead – What will Canada look like in 2030? was moderated by John Macfarlane, editor and co-publisher of The Walrus. During the discussion, Dr. McGregor was joined by CRC colleagues from the University of British Columbia in Vancouver, Laval University in Quebec City, Quebec and the University of Lethbridge in Alberta.
The goal of the Congress of the Humanities and Social Sciences is to explore the ways in which research communities of all disciplines can contribute their knowledge, talent and expertise to understanding and shaping the future of Canada in an evolving global context.
International interest and attention continue to grow in Artemis, a first-of-its-kind neonatal health informatics research project that Dr. McGregor is leading at Ontario Tech University with IBM, The Hospital for Sick Children in Toronto, Ontario and other partners around the globe. The research is helping make sense of the constant stream of data collected from critically ill premature babies so that doctors in the future will be able to better recognize subtle changes in a patient's condition. With physicians having the information they need to intervene more quickly, there is a great hope for reducing mortality rates in premature babies here in Canada and around the world.
In addition to her CRC, Dr. McGregor is the associate dean of Research, Faculty of Business and Information Technology at Ontario Tech University, and cross-appointed to the Faculty of Health Sciences.