Ontario Tech University researcher receives funding for clean technology solutions
August 24, 2012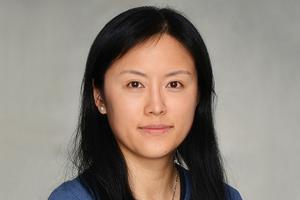 Communications technology may soon go green, thanks to new funding for clean technology solutions research at the University of Ontario Tech University. Dr. Min Dong, assistant professor, Faculty of Engineering and Applied Science, was recently awarded $140,000, over the next five years, through the Ministry of Economic Development and Innovation's Early Researcher Awards program.
"Thank you to the Ontario government for providing me with this funding and recognizing the importance of continued research in this area," said Dr. Dong. "Technology is in high-demand across the globe, and this research has the potential to further improve wireless technology while helping the environment at the same time."
Dr. Dong's award will fund the project entitled: Building Green Communications through Co-operation: Fundamental Limits and Practical Techniques. The focus of this research is to create theories and technologies for improving energy efficiency and conservation, and increase the reliability, speed and range of communications through new wireless solutions and infrastructures.
The ERA program is designed to help promising, recently-appointed Ontario researchers build their research teams of undergraduates, graduate students, post-doctoral fellows, research assistants, associates and technicians. The goal of the program is to improve Ontario's ability to attract and retain the best and brightest research talent.
---
About Ontario Tech University
Ontario Tech University advances the discovery and application of knowledge through a technology-enriched learning environment and the delivery of innovative market-driven programs responsive to the needs of students and industry. With more than 10,000 undergraduate and graduate students enrolled in more than 90 programs, the university promotes social engagement, fosters critical thinking and integrates outcomes-based learning experiences inside and outside the classroom. The university's commitment to accelerating economic growth and social innovation is realized through faculty research collaborations with leading organizations such as Ontario Power Generation, IBM, The Hospital for Sick Children (SickKids) and the Durham Regional Police Service. To find out more, visit ontariotechu.ca.