Ontario Tech University welcomes smart grid engineers to international conference
August 16, 2012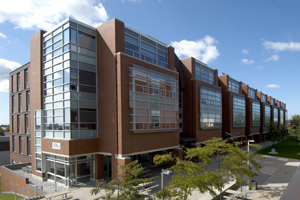 Ontario Tech University is proud to host the 2012 Institute of Electrical and Electronics Engineers (IEEE) International Conference on Smart Grid Engineering (SGE) from Monday, August 27 to Wednesday, August 29.
The conference will focus on engineering challenges around smart grid design and operation, including advanced methods and practices for twist lock/dead load (TL/DL), renewable energy generation, grid applications, security, power quality, grid systems safety, protection, and control of smart grid components and infrastructure.
Keynote speakers include:
Dr. Marija Ilic, Carnegie Mellon University, Pittsburgh, Pennsylvania, United States;
Dr. Om P. Malik, University of Calgary, Alberta; and
Dr. Adel Sharaf, University of Trinidad and Tobago.
The event will include two panel discussions on practical implementation of smart grids and energy conservation within micro grids.
"Ontario Tech University has a reputation for excellence in research and we are pleased so many international researchers will have an opportunity to visit us at the IEEE Conference," said Dr. Michael Owen, associate provost, Research, Ontario Tech University. "Ontario Tech University is strengthening its academic and industry-facing research capacity in smart grid and energy conservation. The IEEE conference is one way we can demonstrate our research capacities to the more than 50 engineers and leading researchers here from universities in Australia, Canada, China, Egypt, Iran, Japan, the Netherlands, Nigeria and the United States."
The IEEE conference will be chaired by Dr. Hossam Gaber, professor, Faculty of Energy Systems and Nuclear Science and the Faculty of Engineering and Applied Science, UOIT.
Main conference sessions will take place in the Science building at Ontario Tech University's north Oshawa location.