Call for nominations for honorary degrees
September 24, 2012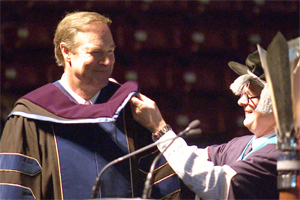 Nominations are now being accepted for honorary degrees to recognize persons who have:
Made an outstanding intellectual and/or scholarly contribution in their chosen field of academic eminence;
Provided outstanding service and/or contributions to greater society through non-academic achievements and/or public service; or
Made major contributions in areas relevant to the mission of UOIT and/or to Durham Region/Northumberland County.
The deadline for nominations is Wednesday, October 31, 2012. Further details including the nomination form and Honorary Doctorate policy can be found on the Academic Council section of the UOIT website under Honorary Degrees Committee.