UOIT and Durham College sign new articulation agreement
University and college formalize commitment to provide diploma-to-degree opportunities to students
October 19, 2012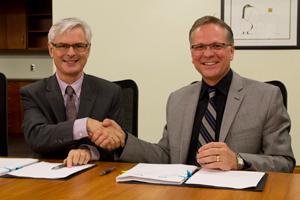 Oshawa, Ont. –The University of Ontario Institute of Technology (UOIT) and Durham College today announced the signing of a new articulation agreement that will allow qualified graduates of one-, two-, and three-year Durham College programs to enter numerous UOIT undergraduate degree programs with advanced standing, enabling them to complete their degree requirements in less than the traditional amount of time. 
"This agreement is another example of how UOIT and Durham College are working together to provide a full post-secondary campus environment in a variety of professional streams that supports continuous learning from apprenticeship to PhD, exemplifying the type of college-university barrier-free campus that can succeed in Ontario," said UOIT President Tim McTiernan. "We look forward to expanding opportunities to partner with Durham College and will continue to examine ways we can continue to work together to leverage resources in Durham Region and beyond  while providing our graduates with everything they need to be successful in the evolving 21st-century workplace."
The agreement was signed by President McTiernan and Durham College President Don Lovisa at the institutions' joint Oshawa campus on October 18. For close to a decade, the university and the college have been committed to providing consistent, flexible and seamless pathway opportunities for students enrolled in approved programs at both institutions.
"Durham College has a long and proud history with UOIT, which includes our shared desire to offer students as many high-quality, post-secondary opportunities as possible," said Don Lovisa, president, Durham College. "More and more students are finding pathways in both directions and this new agreement, which includes the introduction of several new diploma-to-degree opportunities in addition to several existing ones, will allow Durham College graduates to pursue further education in several areas of study right here in Durham Region. We are extremely pleased to see this culmination of our relationship with UOIT and look forward to strengthening our partnership even further in the coming months and years."
The articulation agreement is aligned with the goal of the provincial Ministry of Training, Colleges and Universities and the Ontario Council of Articulation and Transfer to improve overall access to post-secondary education by increasing the number, type and range of collaborative arrangements in Ontario, primarily in affinity-high priority areas. With that goal in mind, the programs incorporated into the new agreement focus on high-demand areas of the local, provincial and national economies including health, business, science, arts, justice, technology and education for a total of 25 diploma-to-degree opportunities approved between the two institutions. In addition, the college offers 16 graduate certificate and six fast-track programs to graduates of UOIT.
A full list of the diploma-to-degree opportunities available between the two institutions for the 2013-2014 academic year can be found on the UOIT Pathways website.
-30-
---
About Ontario Tech University
A modern, forwarding-thinking university, Ontario Tech advances the discovery and application of knowledge to accelerate economic growth, regional development and social innovation. We inspire and equip our students and our graduates to make a positive impact in a tech-focused world. For us, it's not only about developing the next tech breakthrough. Understanding and integrating the social and ethical implications of technology differentiates us as university. Learn more at ontariotechu.ca.