High school engineering showdown comes to UOIT on November 24
November 15, 2012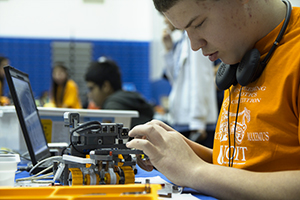 OSHAWA, ON - The brightest young engineering minds in Durham Region, the Greater Toronto Area and elsewhere in South Central Ontario will converge at the University of Ontario Institute of Technology (UOIT) on Saturday, November 24 for UOIT's seventh-annual Engineering Robotics Competition.
This popular UOIT tradition involves more than 200 students and 29 teams from 17 high schools who will put their engineering and science knowledge and creativity to the test as they challenge each other. The huge triple gymnasium inside the Campus Recreation and Wellness Centre will be transformed into an arena of racing robot chariots as each competing school will be looking to take home the coveted awards for winning races and for innovative robotics design.
Throughout the fall, all teams have been taking part in workshops and tutorials hosted by members of UOIT's Faculty of Engineering and Applied Science, led by Dr. Mikael Eklund, associate professor in the Department of Electrical, Computer and Software Engineering. Students have been learning about robotic systems and how to navigate the track. New for 2012 is the high-intensity RoboCross competition that adds obstacles and ramps to the track.
The public and the media are welcome to attend the showdown and cheer on the students as they demonstrate their developing engineering skills.
Event website: http://roboticscomp.engineering.uoit.ca/
When:
Saturday, November 24, 2012
Noon – Introductions
12:20 to 2:30 p.m. – Competition begins
3 to 4:30 p.m. – Final round races
4:30 p.m. – Awards ceremony
Where:
Campus Recreation and Wellness Centre, gyms 3, 4 and 5
University of Ontario Institute of Technology
2000 Simcoe Street North
Oshawa, Ontario
Parking:
Enter off of Conlin Road or Simcoe Street and proceed to the Champions parking lot.
UOIT campus map: http://uoit.ca/maps/uoit/
---
Media contact
Bryan Oliver
Communications and Marketing
Ontario Tech University
905.721.8668 ext. 2209
bryan.oliver@uoit.ca