MDC hosts ninth annual master's certificate graduation ceremony
May 24, 2013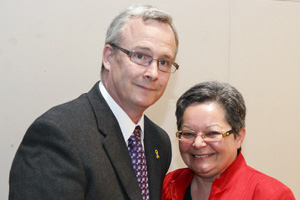 The University of Ontario Institute of Technology (UOIT) has a strong reputation for delivering outstanding innovative programs to undergraduate and graduate students. UOIT is also a university where managers and professionals in Durham Region and beyond can upgrade their qualifications through a wide variety of leading-edge certificate programs offered by the Faculty of Business and Information Technology's (FBIT) Management Development Centre (MDC).
Launched in 2004, the MDC provides opportunities for learning and training in multiple fields of management to help professionals succeed in the ever-changing global environment, and stay up-to-date with technology through programs at a university close to home.
The MDC's first program was Master's Certificate in Municipal Management, which is designed for executives and managers with diverse educational backgrounds who are new to, or experienced in working in a public sector organization. Over 300 area professionals are graduates of this program.
On May 10 the MDC hosted its ninth annual Master's Certificate in Municipal Management graduation ceremony, where Oshawa Mayor John Henry was a special guest who addressed the MDC's Class of 2013.
"UOIT and the MDC have built an outstanding reputation for delivering programs that provide managers and professionals in our area with an opportunity to be even stronger leaders," said Mayor Henry. "I salute the newest class of MDC graduates for investing the time to upgrade their skills, which will in turn make their respective organizations stronger. Through its partnerships with a growing number of municipal organizations, the MDC is helping us build better communities."
"The MDC's Municipal Management program develops key skills and knowledge that participants will take back with them to their organization and help make it thrive," said Stephen Rose, MDC Director, and Associate Dean, FBIT. "MDC graduates have an outstanding record of success and truly are the leaders of tomorrow. We are proud to provide this key learning resource for professionals and executives in Durham Region, Northumberland County and the eastern portion of the Greater Toronto Area."
In addition to Municipal Management, the MDC also offers certificate programs in:
Not-for-Profit Management
Professional Management
Professional Communications
Social Media Marketing
NEW: The MDC is pleased to launch its 10th year with another new program: the Information Risk Management certificate program will provide professionals with the skills to understand, manage and protect business information.