UOIT's Management Development Centre partners with Leading Edge Group to offer new programs
October 25, 2013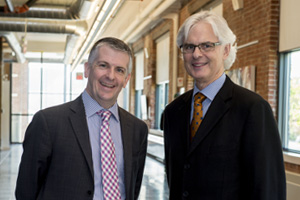 The University of Ontario Institute of Technology's (UOIT) Management Development Centre (MDC) has announced an exciting new partnership with Toronto-based Leading Edge Group to offer online and instructor-led education and training programs to organizations and individuals across Canada.
The MDC will offer the first full suite of academically certified Lean Thinking programs in Canada – a methodology focused on optimizing resources and delivering efficiencies through identifying and eliminating wasteful steps or activities in core processes. Leading Edge Group is a global leader in the provision of Lean education and consultancy.
"Our partnership with Leading Edge Group enables the University of Ontario Institute of Technology to provide business leaders from the private and public sectors with a knowledge base and set of skills that are more and more relevant and sought after across industry," said Dr. Tim McTiernan, UOIT President and Vice-Chancellor. "The partnership further builds on the offerings that we provide through our Management Development Centre. The Lean methodology has become hugely important as a core competency recognized and required across industry so being able to provide entire spectrum of Lean education programs - from beginner to advanced - means we will be able to meet the needs of all organizations and individuals, regardless of where they are on their continuous improvement journey."
Lean Thinking views any activities that do not create value for the end customer to be wasteful, and thus a target for elimination. Working from the perspective of the customer who consumes a product or service, value is defined as any action or process that a customer would be willing to pay for.
"The opportunity to collaborate and partner with UOIT - a rapidly growing institution with a market-driven focus on professional practice, technology and the sciences - is hugely important for our continued growth in the Canadian market," said John Whelton, Vice-President, North American Operations, Leading Edge Group. "This strategic partnership will provide academic recognition for participants on our programs across all sectors and further establishes us as a knowledge leader in the area of continuous improvement."
Mr. Whelton stressed that this strategy of partnership is a core element of Leading Edge Group's success in Canada, having already established a successful relationship in the health care space with the Ontario Hospital Association (OHA) and with a client base that includes Canadian Tire Corporation and Tim Hortons Incorporated.
With offices in Ireland, Australia and the UK, Leading Edge Group has a strong international presence. They work in partnership with a number of academic and professional bodies internationally to provide accredited Lean certification programs.
Since entering the Canadian market in 2008, the Leading Edge Group have achieved double-digit growth year over year.
About the University of Ontario Institute of Technology (UOIT)
The University of Ontario Institute of Technology (UOIT) advances the discovery and application of knowledge through a technology-enriched learning environment and innovative programs responsive to the needs of students, and the evolving 21st-century workplace. With more than 9,800 undergraduate and graduate students enrolled in 75 programs delivered by exceptional faculty, UOIT promotes social engagement, fosters critical thinking and integrates outcomes-based learning experiences inside and outside the classroom. UOIT's commitment to accelerating economic growth and social innovation is realized through research collaborations with leading organizations such as Ontario Power Generation, The Hospital for Sick Children (SickKids) and the Durham Regional Police Service. To find out more, visit uoit.ca.
About the UOIT Management Development Centre (MDC)
The UOIT Management Development Centre helps managers meet the competitive challenges of today's dynamic business environment by combining the latest business concepts with practical managerial skills. The MDC's programs in executive education, management and leadership are developed by industry professionals who have the expertise and experience to provide up-to-date, hands-on and relevant information.
To provide the individual with the knowledge and skills to drive business to the next level, the MDC equips business leaders with the tools required to develop skills in leadership, management, accounting, finance, marketing, information technology and human resource management. For full program offerings and course dates, visit the mdc.uoit.ca.
About Leading Edge Group
Leading Edge Group is an international company that specializes in the area of change and continuous improvement by providing consultancy, corporate training and education to companies across multiple sectors. Established in Cork, Ireland in 1995 and with offices in Canada, Australia and the UK, Leading Edge Group is a global leader in the provision of Lean and Six Sigma facilitation and change management delivering strategic and operational improvements for organizations by enhancing customer service, increasing quality and efficiencies and optimizing resources. Leading Edge Group works in partnership with a number of academic and professional bodies to provide internationally accredited Lean certification programs. For more information go to www.leadingedgegroup.com