FBIT Assistant Professor wins INFORMS award
January 23, 2014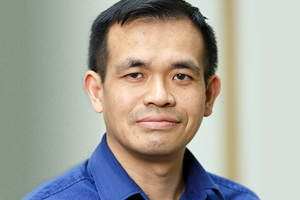 Dr. Fletcher Lu, Assistant Professor, Faculty of Business and Information Technology (FBIT), recently won third place in the Interactive Sessions Poster Competition at the 2013 Institute for Operations Research and Management Sciences' (INFORMS) annual general meeting in Minneapolis, Minnesota. Dr. Lu won the award for his fraud auditing research.
INFORMS is the largest society in the world for professionals in the field of operations research (OR), management science and analytics with more than 9,000 members.
Three winners were selected from 40 poster participants. Awards were given for first ($350), second ($250), and third ($150) place. The winners received a plaque and are recognized in the INFORMS newsletters, ORMS Today and on the INFORMS website.