UOIT students battle it out for CA$H
February 28, 2014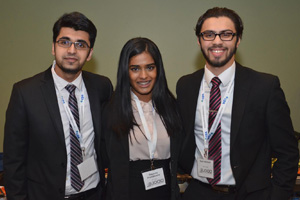 Three University of Ontario Institute of Technology (UOIT) Commerce students recently participated in the Battle for CA$H, a game-like simulation competition that tests communications, teamwork, leadership and time-management skills.
Organized by the Chartered Professional Accountants (CPA) Ontario, the annual event gives university students considering a career as a CPA the opportunity to compete, have fun and earn some cash prizes. A total of 37 three-person teams participated. Team members were undergraduate business students selected by CPA Ontario's Board of Ambassadors, in partnership with accounting or business society executives from 20 university programs across the province.
This year's competition, held in Toronto, Ontario on January 25, featured a desert-themed simulation. Teams had to strategically plan how to get to the opposite end of the map, acquire as much gold as possible in the villages on the way to the mountains, and come back home within a given time. They had 25 three-minute days (75 minutes in total) to complete the task. They could take different routes and move only one space per day. Weather conditions and other variables also complicated the simulation.
UOIT's team included first-year Commerce student Haaris Ahmad, as well as Ragavey Premakumar and Kadir Motiwala, both second-year Commerce students. According to Motiwala, the game tested the team's ability to make the right decisions involving delegation of tasks while performing cohesively together. "The ability to project and calculate future needs was a key aspect of the game," he said. "Teams had to trust each of their members with the decisions made. This game needed quick thinking, effective decision-making and a lot of physical movement."
Unfortunately, UOIT didn't get a spot among the top five teams. "Certain tweaks here and there would have enhanced our game play a bit more and could have resulted in better performance," explained Motiwala. "We talked it over and saw what we could have done better if we were given the chance again."
Nevertheless, the team learned about the importance of planning, task delegation, communication and time management, all while encouraging different ideas. "We are very thankful to our CPA Ontario Board of Ambassadors, Justin Linton and Lucas Morgan, for giving us this opportunity," Motiwala said.