MDC celebrates 10-year milestone
June 6, 2014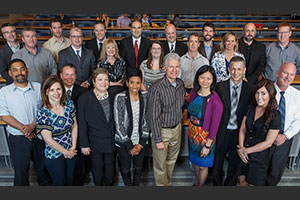 The University of Ontario Institute of Technology (UOIT) is known for delivering outstanding innovative programs to undergraduate and graduate students. But over the years, UOIT has also built a strong reputation for a providing a wide range of programs for managers and business professionals seeking to upgrade their qualifications.
Administered by the Faculty of Business and Information Technology (FBIT), UOIT's Management Development Centre has developed and designed innovative opportunities for learning in multiple fields of professional management, leadership and technology. Facilitated by top industry experts, MDC's workshops, leading-edge certificate programs, seminars and business conferences have been consistently recognized for high-quality.
On May 9, 2014, MDC hosted its tenth annual Master's Certificate in Public Sector Management graduation ceremony. Formally known as the Master's Certificate in Municipal Management, this 16-day program is designed for executives and managers with diverse educational backgrounds who are new to, or experienced in working in a public sector organization.
MDC's more than 350 graduates are area professionals representing:
Region of Durham
City of Oshawa
Town of Ajax
Township of Scugog
Town of Whitby
City of Pickering
Township of Hamilton (Cobourg area)
Durham Region Police Services
Pickering Fire Services
Toronto EMS
Ontario Ministry of Finance
Downtown Toronto BIA
Township of Alnwick/Haldimand
"The MDC's Public Sector program develops key skills and knowledge that participants will take back with them to their organization and help make it thrive," said Stephen Rose, MDC Director, and Associate Dean, FBIT. "MDC graduates have an outstanding record of success and truly are the leaders of tomorrow. We are proud to provide this key learning resource for professionals and executives in Durham Region, Northumberland County and the eastern portion of the Greater Toronto Area."
In addition to Public Sector Management, the MDC also offers certificate programs in:
Not-for-Profit Management
Professional Management
Professional Communications
Social Media Marketing
Advanced Leadership
Lean Management
Project Management
Learn more about both in-house and customized programs by contacting the Management Development Centre.
mdc@uoit.ca
mdc.uoit.ca
905.721.8668, ext. 3290