Exciting mentoring opportunity for potential young engineers and scientists
Youth with career aspirations in science invited to attend Oshawa conference August 12
July 9, 2014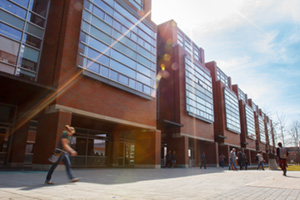 Canada has a proud legacy for producing some of the top engineers in the world: innovative minds who have helped build and an incredible infrastructure across a vast landscape. But that legacy is under threat due to lower university engineering program enrolments and the pending retirement of thousands of engineers over the next decade.
To secure Canada's future needs, the country needs to develop today's brilliant young minds into tomorrow's highly skilled engineers. To help build that new engineering talent base, the Oshawa-based e-Career and Mentoring Program (e-CAMP MENTORing) is partnering with the Faculty of Engineering and Applied Science at the University of Ontario Institute of Technology (UOIT) to provide a forum for youth to start building networks for long-term career success.
On Tuesday, August 12 at 8:45 a.m., e-CAMP MENTORing and UOIT will host a one-day Engagement Symposium for youth between the ages of 15 and 29 with career interests in Science, Technology, Engineering and Mathematics (known as STEM disciplines). The Symposium is a component of the International Conference on Smart Energy Grid Engineering (SEGE'14), taking place at the university from August 11 to 13.
Scheduled Symposium guest speakers:
Dr. Leroy Clarke, President and Executive Director, e-CAMP MENTORing.
Dr. Christopher DiCarlo, Education Consultant and Invited Professor, University of Toronto
Emmanuel Green, Manager, Systems Engineering and Global Virtual Engineering, Cisco Systems Inc.
Dr. Marilyn Morris, Director of Programs and Strategic Planning, e-CAMP MENTORing
The August 12 event Project Gridline: Mentoring the Next Generation of Smart Energy Grid Engineers is the face-to-face component of a more extensive six-week electronic mentoring program offered by e-CAMP MENTORing. The program is open to secondary, post-secondary students and out-of-school youth.    
Program benefits:
One-on-one meetings with key international engineering experts led by UOIT Professor Dr. Hossam Gabbar
Learning about mental preparedness for success
Various demonstrations and training initiatives
Certificate of participation upon course completion
About e-CAMP MENTORing
e-CAMP MENTOR(Meet Engage Nurture Tag Others)ing is a Canadian federally incorporated (2013) not-for-profit organization, created with the goal of furthering youth development and empowerment by providing a safe and creative integrated global Community of Learning and Practice (CLAP) for the 21st Century and beyond. Through face-to-face and electronic mentoring, this social action network agency informs, inspires and recognizes youth 15 to 24 years old, and is also sensitive to the unique needs of 25- to 29-year-olds as may become necessary. e-CAMP MENTORing along with its partners, support and enrich formal education through four pillars of passion content: Sports and Wellness, Arts and Humanities, Business/Entrepreneurship and Finance, and Science and Technology.  
For further information, business sponsorship or other support opportunities please contact:
Dr. Leroy Clarke, President and Executive Chair, e-CAMP MENTORing
647.875.0339 (voicemail)
info@e-campmentoring.com