Area schools invited to participate in the 2014 UOIT Robotics Competition
October 7, 2014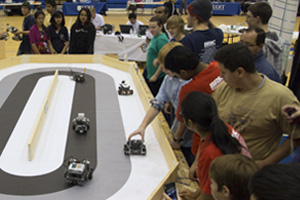 The University of Ontario Institute of Technology (UOIT) is inviting new entries from area high schools to the ninth-annual UOIT Robotics Competition.
Organized by the Faculty of Engineering and Applied Science (FEAS), the UOIT Robotics Competition involves dozens of teams of aspiring young scientists and engineers who combine their knowledge to program robots which will challenge each other in 'SumoBot' competitions. Participants will use LEGO Mindstorm NXT and EV3 kits.
The kickoff meeting and Beginners' Workshop takes place Saturday, October 18 at the university. Workshops and practice session will be on Saturday, November 1 and Saturday, November 15. The event culminates with the final showdown races on the SumoBot ring at the Campus Recreation and Wellness Centre gymnasium.
You can get more information about the competition, including registration details at the UOIT Robotics Competition website.