Purdue Pharma Lecture brings leading blood cancer expert to UOIT
October 6, 2014
There is ample reason for optimism in the battle against blood cancer, says one of Canada's leading authorities on leukemia, drug recycling and molecular genetics.
Dr. Aaron Schimmer came to the University of Ontario Institute of Technology (UOIT) on September 30 to present the seventh-annual Purdue Pharma Canada Distinguished Lecture, hosted by the UOIT Faculty of Science.
"It has been more than 40 years since former U.S. President Richard Nixon signed the U.S. National Cancer Act, a moment generally viewed as the beginning of the war on cancer," said Dr. Schimmer, a Professor in the Faculty of Medicine at the University of Toronto, and Head of Leukemia, Princess Margaret Cancer Centre. "In the case of blood cancers (leukemia), it took about two decades to reverse the trend of rising mortality rates. Since the early 1990s, great progress has been made in extending survival rates."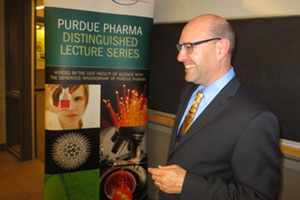 Leukemia is a group of blood cancers that typically originate in the bone marrow and results in high numbers of abnormal white blood cells. The exact cause remains unknown, but experts believe heredity and environment can both be factors. Dr. Schimmer told the UOIT audience the greatest success to date has come in the treatment of chronic lymphocytic leukemia and chronic myelogenous leukemia.
"The encouraging news is that we are on the cusp of a new era in blood cancer therapy," said Dr. Schimmer. "The large-scale study of proteins (proteomics) is the next frontier in identifying new drugs that target leukemia stem cells. Earlier prediction of the success or failure of new therapies will be vital as well because we are also battling the rising cost of drug development."
Purdue Pharma Canada student bursary presentation
The Purdue Pharma Distinguished Lecture series supports an annual bursary awarded to a UOIT Chemistry student specializing in Pharmaceutical Chemistry. The 2014 recipient of the Purdue Pharma Canada Award, Kayla Fisher, has now moved on to her Master of Science (Applied Bioscience) studies at UOIT. Fisher's faculty supervisor is Dr. Yuri Bolshan, Assistant Professor, Faculty of Science.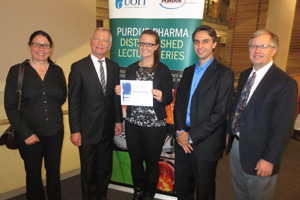 "This lecture provides a tremendous opportunity to learn about the work of world-class researchers in Canada," said Randy Steffan, Vice-President, Government Affairs, Purdue Pharma Canada. "Purdue is pleased to continue its association with this important annual event at the University of Ontario Institute of Technology, and congratulates Kayla Fisher on being this year's bursary recipient."
"The University of Ontario Institute of Technology is excited to have welcomed Dr. Aaron Schimmer to campus to share his research work with our student, our faculty and the community," said Dr. Greg Crawford, Dean, UOIT Faculty of Science. "We are also grateful to to Purdue Pharma Canada for its commitment to the university and unwavering support of this lecture series."
About the Purdue Pharma Canada Distinguished Lecture Series
Based in Pickering, Ontario, Purdue Pharma Canada is a leading pharmaceutical company that generously funds the lecture series and has enthusiastically supported UOIT since the university's inception. Working together, Purdue Pharma Canada and UOIT endeavour to encourage students to take an active interest in the sciences and provide them with opportunities to explore career and research options within the health science industry and beyond.
Established in 2008, the annual UOIT Purdue Pharma Canada Distinguished Lecture aims to provide students with information about how current developments affect the health of Canadians while creating a forum for students and the community to connect with leading scientists. 
If you would like to join the invitation list to free public lecture events at UOIT, please email: events@uoit.ca.