UOIT encourages students to engage in the 2014 municipal election process
October 16, 2014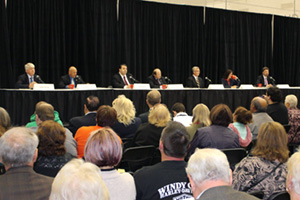 The University of Ontario Institute of Technology (UOIT) is encouraging all students to ensure their voice is heard on Monday, October 27 in municipal elections in their home community.
As part of an effort to inform students about the issues, the university partnered with Durham College and Trent University Oshawa to co-host an on-campus debate for Oshawa mayoral candidates on September 23. The debate in the Campus Recreation and Wellness Centre was followed by a networking session where attendees could chat personally with candidates, including those who are running for council seats in the City of Oshawa and the Region of Durham.
"Students are very busy with their courses and labs, but we believe it is important for the entire community to have an opportunity to hear from the candidates and make an informed choice on October 27," said Lindsay Coolidge, UOIT Manager of Government Relations. "We are also delighted that our colleagues at Durham College and Trent University shared this vision and worked so hard with us to offer the debate forum."
Helpful municipal election information links for students, faculty and staff:
Federal byelection in Whitby-Oshawa riding on November 17
For students, faculty and staff who live in the electoral district of Whitby-Oshawa, Elections Canada has declared a byelection to fill the vacant seat for the riding. Voting Day is Monday, November 17. Complete information about voting and enumeration is available at the Elections Canada website.