UOIT students move on to next stage in entrepreneurial competition
October 8, 2014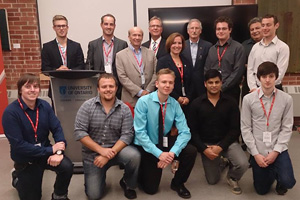 Four companies launched by University of Ontario Institute of Technology (UOIT) students are vying for a $5,000 prize as they move on to the second stage in the Ignite Durham Competition, presented by Spark Centre. 
"Congratulations to our students for their success in this exciting competition," said Dr. Pamela Ritchie, Dean, Faculty of Business and Information Technology. "This is a testament to the quality of the University of Ontario Institute of Technology's Business and Information Technology programs. The creative and highly-skilled leaders who are emerging from these programs are already having a positive impact on our local economy."
The Ignite Competition includes categories for high-school, post-secondary and general participants. Local entrepreneurs applying for the program are assessed according to the following criteria:
  Compelling business venture with innovative focus.
  Rapidly scalable, large market opportunity.
  Strong, committed and coachable team.
Companies selected to move forward are invited to three-hour Local Pitch School, where they learn the art of making a one-minute elevator pitch in preparation for the Ignite Pitch Competition (IPC). During the ICP participants pitch their idea to the Ignite Power Panel, a group of experienced entrepreneurs and business experts.
This year's IPC was held on September 30 at the university's 61 Charles Street Building. The following UOIT student-companies were among the 26 finalists chosen to move on to next stage in the competition:
Games for Education
Global Energy Initiative
Panda Insights
Turnkey Aquaponics Solutions
They attended the Central Pitch School on October 7, where they learned how to refine their pitch further in preparation for the Central Pitch Competition (CPC). The CPC will be held at the Abilities Centre in Whitby, Ontario on Wednesday, October 15, where of them will be selected as the winner of the post-secondary student category and awarded $5,000.
Another five finalists from the other categories will participate in a bootcamp lead by Spark Advisors and local business leaders. During the bootcamp they will develop a formal 20-minute investment presentation, which will be delivered to the Ignite Power Panel on Thursday, November 13. The presentation will be followed by a 10-minute Q&A session, where the teams will face scrutiny from experienced entrepreneurs, investors, and business leaders. The Ignite Power Panel will then select two Ignite 2014 winners.