Get involved with the campus Holiday Food Drive
November 21, 2014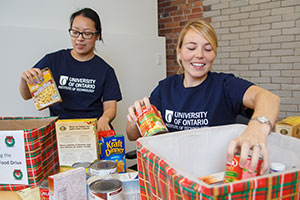 Get involved with the annual campus Holiday Food Drive and bring some joy to those in need for the holiday season.
Organized by staff and students of the University of Ontario Institute of Technology (UOIT), Durham College (DC) and alongside the Kinsmen Club of Oshawa, the drive runs from Monday, November 24 until Friday, December 19.
This year, we are expecting a significant increase in the number of students registering to receive food drive hampers. Whether you want to volunteer your time; donate a non-perishable food item; or write a cheque, there are numerous ways you can contribute to this worthy and amazing cause.
Twitter:
Thank you in advance for your generous support. Happy holidays!