MDC and Leading Edge Group recognize first international Lean program grads
November 19, 2014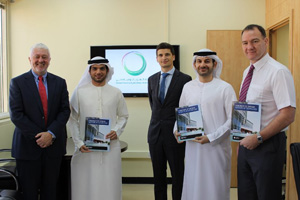 The University of Ontario Institute of Technology's (UOIT) Management Development Centre (MDC) is proud to announce its new collaboration with Leading Edge Group (LEG) has produced the MDC's first cohort of international certifications from the Lean Black Belt program.
All four MDC students work for the Dubai Electricity and Water Authority (DEWA), a utility working to meet the growing demand for water and electricity in the United Arab Emirates (UAE). The DEWA graduates upgraded their qualifications by completing their certifications at home in the UAE. They were recently awarded their UOIT certifications in a small ceremony in Dubai.
"The Faculty of Business and Information Technology is extremely pleased how the Management Development Centre is now offering services that are international in scope," said Stephen Rose, Director, MDC, University of Ontario Institute of Technology. "Our partnership with Leading Edge Group includes delivering LEG's programs both nationally and internationally. This is an amazing opportunity for the university and the MDC, and we look forward to strengthening this connection in the years ahead."
Among many objectives, LEG's Lean programs enable large organizations like DEWA to do a better job of executing business strategies; developing leadership; and improving corporate culture, operational efficiency, quality and service through effective knowledge transfer and facilitation.
There are four colour-coded Lean certification levels, with Master Black Belt being the highest qualification. The Black Belt program is aimed at professionals who have overall responsibility for quality or continuous improvement within their organization, as well as those who play a key role in implementing other levels of Lean deployment.
"This was a unique occasion for the Leading Edge Group on its entry to the UAE market and is an important first step in offering and delivering their international accredited continuous improvement programs," said Joe Aherne, CEO, Leading Edge Group. "We are proud to be associated with such prestigious professionals from one of Dubai's leading organizations.  LEG is hopeful that with our partners we can develop a centre of excellence for continuous improvement in Dubai which can become the benchmark for the entire region."