UOIT researchers help support the transition to paperless health information system at Ontario Shores
November 19, 2014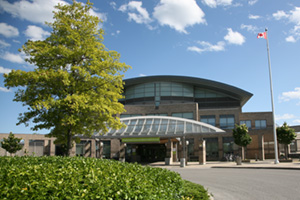 The University of Ontario Institute of Technology (UOIT) proudly salutes the Ontario Shores Centre for Mental Health Sciences (Ontario Shores) in Whitby, Ontario for becoming the first hospital in Canada and the first mental health facility in the world with a fully electronic health information system.
For its successful transition to a truly paperless environment, Ontario Shores has received the Healthcare Information and Management Systems Society's (HIMSS) Stage 7 Award – the highest level of the Electronic Medical Records Adoption Model (EMRAM).
"Our electronic medical record system improves the delivery and quality of care that we provide and standardizes clinical documentation in an environment, which is efficient, secure and collaborative," said Karim Mamdani, Ontario Shores President and CEO.
UOIT has been a key community partner in helping Ontario Shores achieve this world first, specifically through the research support of Dr. Carolyn McGregor and Dr. Jennifer Percival of the university's Faculty of Business and Information Technology (FBIT). The two initially met with Ontario Shores to discuss potential opportunities in 2007 and began formal collaborative research with them the very next year.
"I am really proud our university is able to support our local community and society in Ontario and Canada through the University of Ontario Institute of Technology's mandate to create graduates and pursue research in areas that have direct relevance to society and the economy," said Dr. McGregor, Professor and Canada Research Chair in Health Informatics.
Dr. Percival and Dr. McGregor also offer a course through FBIT's Management Development Centre on patient journey modelling (PaJMa), a foundational tool used by Ontario Shores and other health-care organizations like Kingston, Ontario-based Providence Care to support their moves to electronic health records.
"The leading-edge research and applications developed by Carolyn, Jennifer and their team is great testament to the University of Ontario Institute of Technology's community outreach," said Dr. Pamela Ritchie, Dean, FBIT. "Ontario Shores' success also underscores the quality and relevance of our Health Informatics research."
For many years, the university has placed fourth-year research practicum students at Ontario Shores; some students have held summer employment there, and two alumni have worked full-time in the Clinical Informatics department at Ontario Shores.
HIMSS is a global organization that produces health IT thought leadership, education, events, market research and media services around the world.
About Ontario Shores Centre for Mental Health Sciences
Ontario Shores Centre for Mental Health Sciences (Ontario Shores) is a leader in mental health care, providing a range of specialized assessments and treatment services for people living with complex mental illness. Patients benefit from a recovery-oriented environment of care, built on compassion, inspiration and hope. Ontario Shores engages in research, education and advocacy initiatives to advance the mental health care system.
---
About Ontario Tech University
A modern, forwarding-thinking university, Ontario Tech advances the discovery and application of knowledge to accelerate economic growth, regional development and social innovation. We inspire and equip our students and our graduates to make a positive impact in a tech-focused world. For us, it's not only about developing the next tech breakthrough. Understanding and integrating the social and ethical implications of technology differentiates us as university. Learn more at ontariotechu.ca.