Leadership and Social Change with Wab Kinew – January 9
December 15, 2014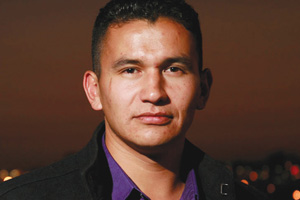 The Student Experience Centre (SEC) will welcome writer, reporter and award-winning musician Wab Kinew to UOIT as the keynote speaker at the SEC's 2015 Leadership Summit weekend.
Leadership and Social Change with Wab Kinew will take place at the Regent Theatre in Oshawa, Ontario on Friday, January 9, 2015 at 7 p.m.
Kinew was named to Postmedia News' list of Nine Aboriginal movers and shakers you should know. Drawing from the wisdom of the Anishinaabe elders, as well as his experience with journalism and western education, he has demonstrated the ability to transform passions and ideas into purposeful action. His accomplishments include:
Director of Indigenous Inclusion, University of Winnipeg
Reporter and host for CBC Winnipeg
Successfully defended The Orenda by Joseph Boyden on Canada Reads 2014 (a competition where five panelists each select and defend a book they think Canadians should read)
Hosted the documentary 8th Fire
Won the Best Rap/Hip-Hop CD award at the Aboriginal Peoples Choice Music Awards for his hop-hop debut CD, Live by the Drum (2009)
Signed a two-book publishing deal with Penguin's Viking Imprint.
Free tickets are available to students, faculty, staff and the general public until 4 p.m. on Friday, January 9, 2015. To reserve your tickets, please email studentexperience@uoit.ca, and include your full name and the number of tickets you wish to reserve. You may reserve one ticket for yourself and up to four tickets for guests. A confirmation email will be sent to you after your request has been processed. When you arrive at the event, your reserved tickets will be available for pickup.
In lieu of charging for tickets, the SEC will accept monetary and non-perishable food donations at the Regent Theatre door. All proceeds will go to the Campus Food Centre.
For more information, please email Alena Shah, Program Manager, Mentoring and Leadership, Student Experience Centre.