Canadian Manufacturers & Exporters establishes UOIT bursary in memory of Jim Flaherty
January 27, 2015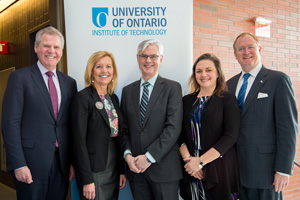 The legacy of the Honourable Jim Flaherty will forever be entrenched at the University of Ontario Institute of Technology  (UOIT) thanks to an endowment to the university from Canadian Manufacturers & Exporters (CME) Canada's largest trade and industry association.
CME's generosity was recognized on January 23 with a private ceremony at the university that featured many special guests, including Jim Flaherty's wife Christine Elliott, Ontario Deputy Leader of the Opposition and Whitby-Oshawa MPP.
Quotes
"I appreciate that CME chose the University of Ontario Institute of Technology for this commemoration, as the university was special to Jim. He announced UOIT's creation in the 2001 provincial budget and was impressed that it grew in to what he hoped it would be: a research-intensive, STEM-focused university where graduates contribute to the strength of the economies of Ontario and Canada, now and in the future. The bursary for a student with special needs will help to fulfil another of his goals: equality of opportunity for people of all abilities. Thank you CME."
- Christine Elliott, who spoke on behalf of the Flaherty family
"The University of Ontario Institute of Technology proudly acknowledges the generosity of Canadian Manufacturers & Exporters in the name of Jim Flaherty. Jim was an exemplary leader and his legacy is deeply tied to the creation of our university. Jim and Christine shared a passion and vision to ensure equal opportunity for people with varying abilities or special needs. This bursary will support our university's unwavering commitment to student success and our strategic mandate to pursue research and development in the area of advanced manufacturing."
- Tim McTiernan, PhD, UOIT President and Vice-Chancellor
"We were all deeply saddened when Jim passed away. Jim was a strong champion of manufacturing across Canada. Many of the fiscal initiatives taken by the federal government that have benefited manufacturers over the past eight years were implemented through the leadership, understanding and strong support of Jim Flaherty. Our aim was to fund an endowment to support an annual bursary to provide substantial support to as many of 'Jim's kids' as possible. We're proud to launch that."
-Jayson Myers, President and CEO, Canadian Manufacturers & Exporters
Background information
About the Bursary in honour of the Honourable Jim Flaherty:
Through its national membership, last spring Canadian Manufacturers & Exporters (CME) launched a call for contributions to a bursary, to honour Flaherty's memory and celebrate his extensive efforts that culminated with the founding of UOIT in 2002.  
CME's objective for the endowment of the Bursary in honour of the Honourable Jim Flaherty is to exceed $100,000.
The endowment will support students with special needs, with preference for students enrolled in courses related to manufacturing at UOIT. The first $2,000 bursary will be presented in the 2014-2015 academic year.
About the University of Ontario Institute of Technology (UOIT):
UOIT is known for delivering programs in STEM-based disciplines (science, technology, engineering and mathematics).
The university's Board of Governors recently approved a new Engineering program in Mechatronics.

This new multidisciplinary design-process program will complement the university's existing strengths in manufacturing engineering, through its combination of mechanical, electrical, telecommunications and computer engineering.
The Faculty of Engineering and Applied Science offers a unique program dedicated to Manufacturing Engineering, which involves:

Setting up or improving the design, production and manufacturing of goods and products.
The development and application of advanced manufacturing processes and technologies such as robotics, automation and intelligent controls.
About Canadian Manufacturers & Exporters (CME)
CME is Canada's largest trade and industry association, whose 10,000 members and strategic partners are connected to every sector of the Canadian economy.
CME focuses on a wide range of issues, including: manufacturing competitiveness, U.S. business, international markets, people and skills, energy, and the environment.
President and CEO Jayson Myers, who presented the Bursary in honour of the Honourable Jim Flaherty, is a well-known economic commentator who is widely published in the fields of Canadian and international economics, technological and industrial change. He led the association's Manufacturing 20/20 initiative, the largest cross-country consultation ever convened by Canada's business community on the future of manufacturing in Canada.
Jayson Myers is also Chair of the Canadian Manufacturing Coalition.
---
Media contact
Bryan Oliver
Communications and Marketing
Ontario Tech University
905.721.8668, ext 6709
289.928.3653
bryan.oliver@uoit.ca