Dr. Robert Bailey appointed as new UOIT Associate Provost
Ecological researcher will join University of Ontario Institute of Technology on July 1, 2015
January 23, 2015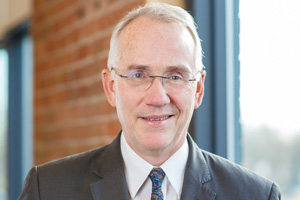 OSHAWA, ONTARIO – The University of Ontario Institute of Technology (UOIT) is pleased to announce Dr. Robert (Bob) Bailey as its new Associate Provost, effective July 1, 2015. Dr. Bailey comes to UOIT from Cape Breton University in Sydney, Nova Scotia where he was Provost and Vice-President Academic and Professional Studies.
Dr. Bailey's career as a senior academic leader includes serving as the inaugural Director of the interdisciplinary Centre for Environment and Sustainability at Western University in London, Ontario.
"My experience as an academic leader at Cape Breton University and Western University will be very useful in my new role at the University of Ontario Institute of Technology," said Dr. Bailey. "I'm really excited to have the opportunity of helping the academy at UOIT mature and flourish as it moves into its second decade, and my partner Chris and I look forward to making our new home in Durham Region."
"Dr. Bailey has a strong track record in building effective and diverse teams of senior leaders in the university environment," said Dr. Deborah Saucier, UOIT Provost and Vice-President, Academic. "The University of Ontario Institute of Technology looks forward to the enthusiasm and experience he will bring as we move forward with a number of key new initiatives, including our university's commitment and focus on integrated planning."
At Cape Breton University, Dr. Bailey led an ongoing, academic planning process which transformed the university's research and educational culture. While at Western, Dr. Bailey brought together more than 75 professors from five faculties for the development and execution of Western's environmental undergraduate, graduate, and research programs.
From 2007 to 2011, Dr. Bailey was President of the Association of Canadian Universities for Northern Studies, a consortium of more than 40 Canadian universities and northern colleges devoted to enhancing and facilitating northern research and education. 
Dr. Bailey received his PhD in Zoology from Western. He completed his MSc in Zoology and a BSc in Ecology at the University of Guelph.
About the University of Ontario Institute of Technology
The University of Ontario Institute of Technology (UOIT) advances the discovery and application of knowledge through a technology-enriched learning environment and the delivery of innovative market-driven programs responsive to the needs of students and industry. With more than 10,000 undergraduate and graduate students enrolled in 76 programs, UOIT promotes social engagement, fosters critical thinking and integrates outcomes-based learning experiences inside and outside the classroom. UOIT's commitment to accelerating economic growth and social innovation is realized through faculty research collaborations with leading organizations such as Ontario Power Generation, IBM, The Hospital for Sick Children (SickKids) and the Durham Regional Police Service. To find out more, please visit uoit.ca or follow UOIT on Twitter.
---
Media contact
Bryan Oliver
Communications and Marketing
Ontario Tech University
905.721.8668, ext 6709
289.928.3653
bryan.oliver@uoit.ca