Elementary students invade campus with LEGO robots
January 21, 2015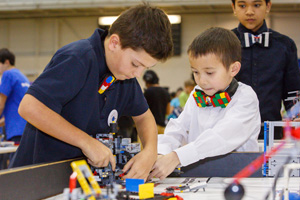 LEGO robots designed by some of Ontario's brightest young minds took over the joint campus of the University of Ontario Institute of Technology (UOIT) and Durham College (DC) on January 17, as both institutions co-hosted the annual FIRST LEGO League's (FLL) Ontario East Provincial Championships. FIRST is an acronym that means For Inspiration and Recognition of Science and Technology.
Nearly 400 students (ages nine to 14), more than 1,000 parents, siblings and coaches, and 200 volunteers, judges, and referees were on hand for the FLL competition, which encourages students to apply math and science concepts to research, design, build and program autonomous robots using LEGO Mindstorms software. At the end of a day filled with fierce and fun competition, team Ctrl-Z from Bayview Glen School in Toronto were crowned the winner and awarded an opportunity to compete at the FLL World Festival in St. Louis, Missouri in late April.
"Our university is proud to partner with Durham College to host this high-energy competition that brings families from all across the province to our joint campus," said UOIT President Tim McTiernan. "The University of Ontario Institute of Technology is all about inspiring creative thinking and pushing the boundaries of innovation. This venue is a perfect match with the objective of FIRST LEGO League World Class: to support creative ways of learning."
"We were thrilled to welcome the young competitors, their families, coaches and the volunteers to our joint campus," said Don Lovisa, president, Durham College. "As a college that prides itself on innovation, everyone at DC loves watching the younger generation become engaged with science and technology. And who doesn't enjoy playing with LEGO?"
This year's project mission was to find a better or more innovative way to help someone learn. Competitors chose a topic, designed their FLL WORLD CLASS question, created their solution and then presented for the judges.
"We always have a great time when we bring the FLL tournament to DC and UOIT," said Dave Ellis, director, FIRST LEGO League Ontario. "The Ontario East Provincial Championship is a key part of the overall season each year; we really appreciate the support offered by both academic institutions as we work to foster a love of science, technology, engineering and math concepts."
Awards list
| | | |
| --- | --- | --- |
| Champions Award | | |
| 1st Place | Ctrl-Z Bayview Glen | Toronto |
| 2nd Place | is LOST  | Toronto |
| 3rd Place | Gryphonbots | Toronto |
| Adult Mentor | Debbie Hoffele | Niagara |
| Youth Mentor | Eden Bibic | Kingston |
| Robot Performance Award | Lego da Vincis | Niagara |
| Judges Award | Viperbots 2 | Toronto |
| Rising Star Award | Sibling Rivalry | Ottawa |
| Inspiration | The Musical Misconceptionists | Toronto |
| Teamwork | Maniacs mechanics | Kanata |
| Gracious Professionalism | AEMbots | Toronto |
| Mechanical Design | UTS FOREV3R | Toronto |
| Programming | NAYBERS | Kingston |
| Strategy and Innovation | W.A.F.F.L.E.S. | Kingston |
| Research | King Edward Triple A Batteries | Toronto |
| Innovative Solution | Robotic Elite Designers | Toronto |
| Presentation | Lego da Vincis | Niagara |
| Playoff Award | Sibling Rivalry | Ottawa |
The FIRST LEGO League (FLL) is an international robotics program in which teams of young people aged nine to 14 assemble robots (based on the LEGO Mindstorms kit) designed to accomplish tasks associated with a real-world challenge. This competition combines the excitement of a varsity sport with hands-on training in science and technology to help students discover how rewarding a career in engineering or technology can be.
Selected related media links:
Gallery