FIRST LEGO League Ontario East Provincial Championships coming January 17
January 9, 2015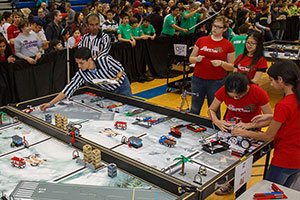 LEGO robots designed by some of Ontario's brightest young minds will take over the joint University of Ontario Institute of Technology (UOIT) and Durham College (DC) campus Saturday, January 17, as both institutions co-host the annual FIRST LEGO League's (FLL) Ontario East Provincial Championships. FIRST is an acronym that means For Inspiration and Recognition of Science and Technology.
Nearly 400 students (ages nine to 14), more than 1,000 parents, siblings and coaches, and 200 volunteers, judges, and referees will be on hand for the FLL competition, which encourages students to apply math and science concepts to research, design, build and program autonomous robots using Lego Mindstorms software.
This year's project mission is to find a better or more innovative way to help someone learn. Competitors will choose a topic, design their FLL WORLD CLASS question, create their solution and then present for the judges.
When: Saturday, January 17
Schedule:
7:30 a.m. – Pits open
8 a.m. – Judging and practice rounds begin
10:10 a.m. – Opening ceremonies
10:50 a.m. – Judging and practice rounds continue
11:50 a.m. – Lunch
1 p.m. – Callbacks
2 p.m. – Official robot matches begin
5 p.m. – Closing ceremonies and awards
Where:
Campus Recreation and Wellness Centre, gyms 3, 4 and 5
2000 Simcoe Street North
Oshawa, Ontario
Parking:
Free parking will be available on the day of the event in Founders Lot 2 and 3 (see campus map).