UOIT announces new graduate programs in Forensic Psychology
Applications for Fall 2015 intake are due by March 1
January 26, 2015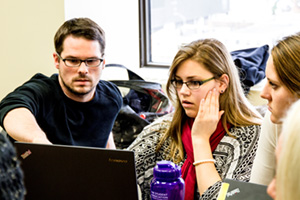 Students intrigued by a career in forensic psychology will be interested in two new graduate programs offered by the University of Ontario Institute of Technology (UOIT).
The university's Faculty of Social Science and Humanities (FSSH) and Office of Graduate Studies have launched a new master's and doctoral program in Forensic Psychology, effective September 2015. Students in the program will be able to earn a Master of Science (MSc) or PhD.
"The University of Ontario Institute of Technology contributes to the advancement of society by responding to emerging public policy challenges and driving better understanding of social processes," said Dr. Ed Waller, Interim Dean, Office of Graduate Studies. "Graduate students in our new programs in Forensic Psychology will have the opportunity to engage in cutting-edge research and coursework on the application of psychology to the justice system."
Specifically, MSc and PhD students will be able to study topics such as:
Antisocial personality and psychopathy
Domestic violence
Eyewitness identifications
Geographic profiling
Investigative interviewing
Juvenile offenders
Lie detection
Sex offenders
Wrongful conviction
UOIT emphasizes applied, interdisciplinary and collaborative research. In these new programs, graduate students will have the opportunity to learn from scholars from a variety of disciplines, such as criminology, legal studies, forensic science, neuroscience, and other social sciences. Students will also learn alongside, and make connections with, graduate students in the university's Master of Arts program in Criminology.
Exceptional applicants can be admitted directly into the five-year PhD program without requiring completion of a master's degree. The PhD program offers a strong orientation in the social and biological sciences and is a good fit for students interested in academic and applied (non-clinical) psychological careers.
UOIT's Forensic Psychology programs are based at the university's downtown Oshawa location, in new and spacious classroom and laboratory facilities. Police departments, mental health facilities, hospitals, addiction centres, and the Durham Region Courthouse are all in close proximity to campus. Students will be well-positioned to conduct research with these institutions and organizations, and gain practical skills that will facilitate employment upon graduation.
The application deadline for Fall 2015 intake is Sunday, March 1, 2015.
More information and to apply:
Office of Graduate Studies
University of Ontario Institute of Technology
2000 Simcoe Street North
Oshawa, Ontario
gradstudies@uoit.ca
gradstudies.uoit.ca/forensicpsych
gradstudies.uoit.ca/forensicpsychphd
905.721.8668 ext. 6209
facebook.com/uoitgradstudies
twitter.com/uoitgradstudies
instagram.com/uoitgradstudies
---
Media contact
Bryan Oliver
Communications and Marketing
Ontario Tech University
905.721.8668, ext 6709
289.928.3653
bryan.oliver@uoit.ca