UOIT's Dr. Christopher Collins helping Canadians better manage data overload
New funding for data analysis announced by Canadian Foundation for Innovation
January 20, 2015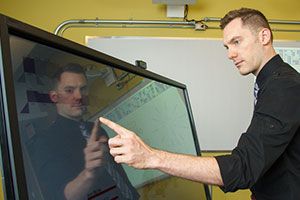 OSHAWA, ONTARIO – From tweets and emails to newspapers, billions of pieces of economically and culturally important linguistic data are generated every day around the world. Faced with such an overwhelming volume of textual and visual data, many Canadians – individuals and organizations alike – are struggling with the issue of information overload.
University of Ontario Institute of Technology (UOIT) researcher Dr. Christopher Collins believes the rising tide of digital data is an urgent problem and poses a significant economic drain on society. The Canadian Foundation for Innovation (CFI) agrees, and it has announced new funding ($55,000) for the UOIT Canada Research Chair in Linguistic Information Visualization to explore new ways of managing linguistic data and understanding its importance to Canada.
"From literature to social media, questions abound about how we can gain useful insight from the massive and growing volumes of language data in our world," said Dr. Collins, Assistant Professor, Faculty of Science. "The Canada Foundation for Innovation's support will help us explore new interactive data mining tools and automated language analysis technologies to help do innovative things such as detecting collective emotions in text."
"In our government's updated Science, Technology and Innovation Strategy, we are making record investments necessary to push the boundaries of knowledge, create jobs and prosperity and improve the quality of life of Canadians," said the Honourable Ed Holder, Minister of State (Science and Technology), who made the John R. Evans Leaders Fund national announcement at the University of Saskatchewan n Saskatoon. "Canada has become a destination of choice for highly talented scientific researchers, thanks in part to our support for world class university and college infrastructure which helps train the next generation of Canadian research talent."
The CFI's announcement is timely, given that Canada's text analytics sector now represents over $1 billion in annual revenue. Large companies such as SAP Canada and IBM are investing heavily in text analytics services such as e-discovery, business intelligence and document management. The Government of Ontario made digital media a key focus area in the Ontario Innovation Agenda – the guiding provincial plan for research investment, which also supports Canada's Federal Science and Technology Strategy.
"When the country's researchers have access to state-of-the-art tools and facilities, they can ask bold questions, find remarkable answers and apply them in new and often unexpected ways," said Gilles Patry, President and CEO, CFI. "Their discoveries and innovations further Canada's reputation as a nation known for its research excellence."
Dr. Collins and his research team will use the CFI funding to design new analytics in his Laboratory for Information Visualization (vialab) by applying the latest human-computer gesture-based interface technologies to assess terabyte-scale datasets. Vialab's features include an embodied eye tracker, multi-touch wall display and interactive table capable of responding to touches, pens and the presence of marked objects on a surface.
"Data management and mobilization is a key component of the University of Ontario Institute of Technology's strategic research plan," said Dr. Michael Owen, Vice-President, Research, Innovation and International, UOIT. "Dr. Collins is a recognized leader in his field and the Canada Foundation for Innovation's support will help take him and the university to a new level of high-impact research."
The outcomes of Collins' research may include new ways to analyze and interpret medical records, security systems, digital humanities, streaming web data, and other data-intensive domains. Inventions and applications created will be made available to small and medium enterprises through open-source software, enhancing their competitiveness. 
About the Canada Foundation for Innovation
The Canada Foundation for Innovation gives researchers the tools they need to think big and innovate. By investing in state-of-the-art facilities and equipment in Canada's universities, colleges, research hospitals and non-profit research institutions, the CFI is helping to attract and retain the world's top talent, to train the next generation of researchers, to support private-sector innovation and to create high-quality jobs that strengthen the economy and improve the quality of life for all Canadians. For more information, visit Innovation.ca or follow us on Twitter @InnovationCA.
About the University of Ontario Institute of Technology
The University of Ontario Institute of Technology (UOIT) advances the discovery and application of knowledge through a technology-enriched learning environment and the delivery of innovative market-driven programs responsive to the needs of students and industry. With more than 10,000 undergraduate and graduate students enrolled in 76 programs, UOIT promotes social engagement, fosters critical thinking and integrates outcomes-based learning experiences inside and outside the classroom. UOIT's commitment to accelerating economic growth and social innovation is realized through faculty research collaborations with leading organizations such as Ontario Power Generation, IBM, The Hospital for Sick Children (SickKids) and the Durham Regional Police Service. To find out more, please visit uoit.ca
Media contact:
Bryan Oliver
UOIT Communications and Marketing
905.721. 8668 ext. 6709
289.928.3653 (cell)
bryan.oliver@uoit.ca
Michael Bhardwaj
Media Relations Specialist
Canada Foundation for Innovation
613.943.5346 (office)
613.222.1910 (mobile)
Michael.bhardwaj@innovation.ca