ACE ushers in new era of multi-purpose testing and product development
UAV (drone) and motorsports industry intrigued by possibilities offered by ACE
February 18, 2015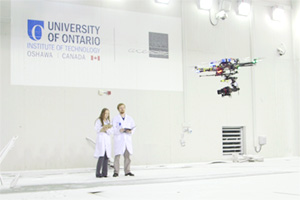 The University of Ontario Institute of Technology (UOIT) is blowing away researchers and companies from across Canada and around the world with ACE, the university's amazing $100 million multi-purpose testing and product development facility.
Less than four years after opening, ACE has built a reputation as a vital hub of leading-edge industry and academic research, helping innovative thinkers commercialize new and promising technologies.
ACE's clients are testing everything from automotive and aerospace products to materials that will improve the performance of elite athletes. ACE is also providing services to many other sectors, including architectural, aerospace, new energy systems, film and television, and motorsports. It is also proving to be an ideal test facility for new products in the expanding Unmanned Aerial Vehicle (UAV or drone) industry.
ACE Motorsport Performance: Invest An Hour. Save a Second.
Located just 20 minutes from Canadian Tire Motorsport Park (Mosport, Ontario), ACE is the perfect location for the motorsport industry to optimize performance through aerodynamic and thermodynamic testing. ACE's professional aerodynamicist and motorsport experts can help optimize wind drag and increase speed, leading to faster lap times and wins. No more guessing about wing angles or wicker heights.
 Link to feature report by the Upper Canada Region of the Porsche Club of a America
Mother Nature is not reliable… but ACE is
ACE is home to the university's renowned climatic wind tunnel – one of the largest and most sophisticated of its kind on the planet. Need to test your product to see if it can withstand a paralyzing arctic blizzard or hurricane? What about a tropical downpour, freezing rain storm or searing desert heat? ACE can easily make almost every conceivable weather condition happen, made-to-order, with exact temperature (-40 to +60°C), humidity and wind speed (exceeding 240 km/h or Category 4).
In addition to climate chambers, ACE provides structural durability and life cycle testing options. ACE can put any product to the ultimate test using the Four-Post Shaker and the Multi-Axis Shaker Table. 
ACE building a bridge from UOIT to the rest of the world
ACE's team of engineering experts is supporting the university's commitment to innovation and discovery. ACE is turning the eyes of entrepreneurs and established industries everywhere to the research opportunities available in Ontario's industrial heartland: Durham Region and Northumberland County.
To learn more about ACE, visit ace.uoit.ca.
---
Media contact
Bryan Oliver
Communications and Marketing
Ontario Tech University
905.721.8668, ext 6709
289.928.3653
bryan.oliver@uoit.ca