Dr. Sue Coffey receives prestigious provincial nursing research award
February 24, 2015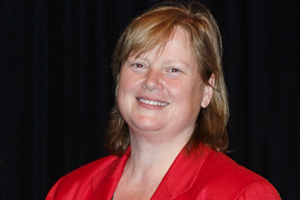 The Registered Nurses' Association of Ontario (RNAO) has recognized Dr. Sue Coffey of the University of Ontario Institute of Technology (UOIT) with the 2015 Leadership Award in Nursing Research.
The award honours Dr. Coffey, Associate Professor, Faculty of Health Sciences (FHS), for her outstanding contributions to Ontario's nursing profession. It will be presented at the RNAO Annual General Meeting in Toronto, Ontario on Friday, April 17.
"Congratulations to Dr. Coffey on this much-deserved award," said Dr. Otto Sanchez, Professor and Interim Dean, FHS. "Through her research, she has influenced nursing curriculum and program development; educational practices using technology; and the nursing student experience. As an academic she is a strong collaborator, and serves as a proactive mentor and advocate for her colleagues. In all of her work she promotes equity, accessibility and lifelong learning in nursing education."
Dr. Coffey's nomination highlighted her leadership qualities as former Director of the Durham College-UOIT Collaborative Nursing program. Under her leadership, this program received the 2013 RNAO Promotion in a Nursing Program Award.
Her research on nursing education has led to student-centered innovations in classroom, online, and in clinical and simulation settings. She has secured more than nine million dollars in funding for research and innovative curricular development in nursing. Her work is widely disseminated in educational research journals, an interprofessional health-care practice book in which she co-authored six chapters, and multiple national and international peer-reviewed presentations.