Save the date – Campus Master Plan Open House, Monday, March 9
February 10, 2015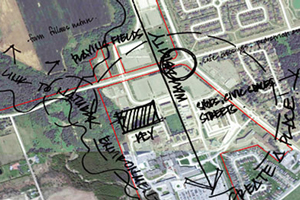 Students, faculty, staff and the public are invited to learn more about the future shared Oshawa campus expansion of the University of Ontario Institute of Technology (UOIT) and Durham College (DC) on Monday, March 9 at the Campus Master Plan (CMP) Community Open House.
Interact with the CMP planning team and offer feedback on the draft CMP, with specific input in the areas of:
Public areas and open spaces, such as linkages, nodes/squares and gateways.
Character of campus areas including landscaping, building height, pedestrian connections and open spaces.
Transportation: driving, transit, cycling and pedestrian.
Scheduled public sessions on Monday, March 9:
Noon: Gordon Willey Building, DC Pit – 30-minute session
1 p.m.: Science Building, West Atrium – 30-minute session
3:30 to 6 p.m.: Gordon Willey Building, Dining Room (Room G213) – full session
For more information, please visit campusmasterplan.ca.