Full international accreditation confirmed for UOIT's Forensic Science program
UOIT program is one of only two in Canada granted highest level of distinction
March 9, 2015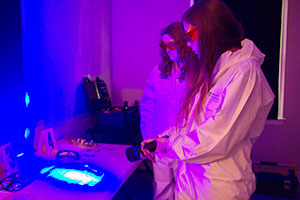 OSHAWA, ONTARIO – The University of Ontario Institute of Technology's (UOIT) Forensic Science program has had its full accreditation confirmed by the American Academy of Forensic Sciences' Forensic Education Programs Accreditation Commission (FEPAC).
FEPAC accreditation means the program must follow stringent standards, and offer specific courses and material. A high level of practical ability is expected and rigorous assessment methods are compulsory. Faculty and staff within the program must have a minimum level of education as well as ongoing affiliations with forensic science labs and law enforcement organizations.
"FEPAC's full accreditation means students have every reason to consider the University of Ontario Institute of Technology as the best choice for a Forensic Science education," said Dr. Greg Crawford, Dean, UOIT Faculty of Science. "This milestone recognizes our program's strong scientific foundation, the strength of our teaching faculty, and the excellent technology and facilities available to our students. It also means our graduates are qualified for many more job opportunities around the world."
In addition to providing deeper credibility for UOIT's undergraduate program in Forensic Science, the full FEPAC accreditation will also help UOIT's Faculty of Science continue to build the depth of its master's and PhD degree opportunities.
Other UOIT Forensic Science program features:
Program specialization opportunities in Forensic Biology, Forensic Chemistry, Forensic Physics and Forensic Psychology.
Integration of tablet computers, specialized software, learning objects and digital single-lens reflex (SLR) cameras.
Hands-on learning opportunities through staged mock crime scenes at Crime Scene House.
Forensic Ecology Research Facility, used for decomposition and entomological research.
Dedicated Forensic Laboratory for biological and chemical analyses.
Focused courses such as Criminalistics, and Forensic Drug Chemistry and Toxicology.
Internships in the final year of study.
The University of Ontario Institute of Technology joins Laurentian University in Sudbury, Ontario as the only forensic science programs in Canada fully accredited by FEPAC.
The accreditation news comes just ahead of the Faculty of Science's seventh-annual Forensic Science Research Day, where fourth-year students will present their research findings to leading professionals in the field. The event will take place Friday, April 24 at UOIT's Regent Theatre, 50 King Street East, downtown Oshawa.
For more information about UOIT's Forensic Science program, please contact the Director, Dr. Helene LeBlanc, Associate Professor, UOIT Faculty of Science, at 905.721.8668 ext. 3688.
About FEPAC
Based in Colorado Springs, Colorado, the mission of the Forensic Science Education Programs Accreditation Commission (FEPAC) is to maintain and to enhance the quality of forensic science education through a formal evaluation and recognition of university-level academic programs. The primary function of the Commission is to develop and to maintain standards in order to administer an accreditation program that recognizes and distinguishes high quality undergraduate and graduate forensic science programs.