International robotics showdown coming to UOIT and Durham College
High school student-programmed robots will battle in Recycle RushSM competition
March 4, 2015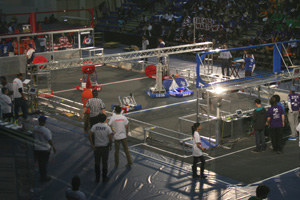 High school robotics teams from across Ontario, Quebec, Alberta and New York State will converge in Oshawa for a three-day robotics showdown at the FIRST® Robotics Canada (FRC) Greater Toronto East Regional competition. The University of Ontario Institute of Technology (UOIT) and Durham College (DC) will host the event at the schools' shared Oshawa campus from Thursday, March 12 to Saturday, March 14.
The event is free and open to the public.
More than 1,000 student-participants, competing on more than 45 teams, will demonstrate their engineering skills and knowledge using the Recycle RushSM program as they contend for a coveted spot at the FRC World Championship in St. Louis, Missouri from April 22 to 25.
Two competing alliances (teams of three) will guide their robots in a recycling-themed game to dispose of 'litter' and collect as many points as possible during a two-minute-and-30-second match. During the first 15 seconds, the robots operate independently of their drivers to earn points by moving themselves. Competitors will also be recognized for robot design excellence, sportsmanship and teamwork.
Practice rounds begin on Thursday, March 12, followed by qualifying rounds on Friday, March 13. Elimination rounds and the awards ceremony will take place on Saturday, March 14. Students will also have the opportunity to fine-tune their robots in DC's state-of-the-art, Integrated Manufacturing Centre.
DC President Don Lovisa and Professor Bale Reddy of UOIT's Faculty of Engineering and Applied Science will speak at the event's opening ceremonies on the morning of Friday, March 13. The Mayor of Oshawa, John Henry, will be part of opening ceremonies on Saturday morning, Championship Day.
The FRC Greater Toronto East Regional is the second of seven national qualifying competitions across Canada and is part of For Inspiration and Recognition of Science and Technology (FIRST), an international, not-for-profit organization dedicated to inspiring young people's interest and participation in science and technology.
Where:
Campus Recreation and Wellness Centre (CRWC) gymnasiums
UOIT/DC shared Oshawa campus
2000 Simcoe Street North
When:
Media is encouraged to attend during the following times:
Friday, March 13:
Opening ceremonies: 8:30 a.m.
Qualification matches: 9 a.m. to noon; 1 to 5:45 p.m.
Saturday, March 14:
Final rounds: 1:30 to 4:30 p.m.
Awards ceremony: 4:30 p.m.
Parking:
Enter off Simcoe Street North or Conlin Road and proceed to the Founders 3 parking lot. Follow the signs to the CRWC.
For more information, please visit the official FRC Greater Toronto East Regional event website.
Media contacts:
Bryan Oliver
University of Ontario Institute of Technology
Communications and Marketing
905.721.8668 ext. 6709
289.928.3653 (cell)
bryan.oliver@uoit.ca
Meghan Ney
Durham College
Communications and Marketing
905.721.2000 ext. 6219
905.259.8300 (cell)
meghan.ney@durhamcollege.ca