Trent University, UOIT and Durham College join forces in bold vision to create healthier communities
March 26, 2015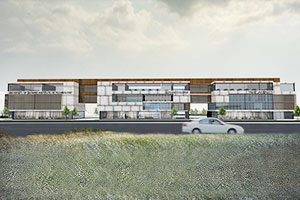 Trent University, the University of Ontario Institute of Technology (UOIT), and Durham College have collaborated on a call for submissions from the provincial government's Major Capacity Expansion Framework to build a new flagship facility dedicated to health and community studies, located in Oshawa's north end. 
The proposed Centre for Integrated Health and Community Studies (CIHCS) and the partnership between the three institutions is detailed in a collaborative new website, investwith3.ca. The bold vision proposes a new facility that will enable the institutions to deliver curriculum and create a campus culture that educates students in the requisite knowledge, and technical and soft skills needed for success in the health-care and community studies field. Offering a unique mix of programs from the three institutions will give people in Durham Region, Northumberland County and beyond access to more health-care professionals and technologies, as well as access to new innovative approaches to health care.
Additionally, the proposed new facility will open up opportunities for exciting new collaborations with industry partners that will position Durham Region and Northumberland County as a leader in health-care delivery, services and innovation. It will strengthen and sustain the partnerships already in place with area health care and community institutions, many of which are recognized across the province for excellence in health-care delivery.
"The Centre for Integrated Health and Community Studies is a shining example of the many ways that collaborative healthcare programming at UOIT, Trent University and Durham College aligns with the health needs of our communities," notes Roger Anderson, Regional Chair and CEO of the Durham Region. "I am confident that this Centre will create more opportunities for health professionals and attract more health-care industry partnerships to the Durham Region."
The proposal and partnership by Durham College, UOIT and Trent University builds on a long history of collaboration with decades of experience working together. The natural synergies that exist between the institutions provides a solid foundation for success for the Centre for Integrated Health and Community Studies.
Trent University, UOIT and Durham College invite the community and local industry to visit the new website for more information about the Centre and encourage current and potential partners to inquire about the unique opportunities for collaborations and partnerships.
About the Major Capacity Expansion Framework:
In December 2013, the Ontario Government released the Major Capacity Expansion (MCE) Policy Framework and a call for submissions was issued in early 2014. The MCE was created to ensure that students have greater access to spaces where they are needed most – where demand is strongest. This initiative represents a unique opportunity for the government to demonstrate how its investments in infrastructure can strengthen post-secondary education as well as promote economic growth and industrial transformation.
For more information, visit: tcu.gov.on.ca/pepg/publications/MajorPolicyFramework.pdf
For more information contact: info@investwith3.ca
University of Ontario Institute of Technology
John MacMillan
Director, Communications
905.721.8668  ext. 6736
john.macmillan@uoit.ca
Durham College                                                                            
Chris Yeo                                                                                      
Manager, Communications                          
905.721.2000 ext. 2290                               
chris.yeo@durhamcollege.ca                                                                                         
Trent University
Marilyn Burns
Executive Director, Marketing & Communications, Recruitment & Admissions     
705.748.1011 ext. 6184
mburns@trentu.ca