UOIT Education students host bullying awareness workshop at local school board event
March 18, 2015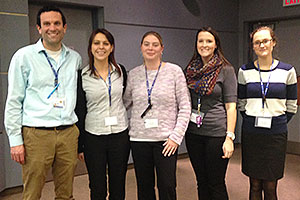 Bullying takes on many different forms. Some kids are ostracized. Others are physically abused, taunted or called names. Whether it happens in the classroom or on the playground, it's a serious problem in schools today, and one that hasn't changed much over the years. In a recent Angus Reid poll of Canadian adults:
Nearly half (46 per cent) of respondents with kids currently in school said their child has been bullied.
Three-quarters of those surveyed said they experienced bullying as a child in school
One-third of those bullied most frequently said their experiences had a "lasting and serious impact."
75 per cent of respondents said it will "never go away."
To help address bullying and other negative behaviours, Education students and faculty members from the University of Ontario Institute of Technology (UOIT) recently participated in the Durham District School Board's (DDSB) 2014 Bullying Awareness and Prevention Conference, where they had a chance to share ideas on the topic with other educators, students and administrators.
"Congratulations to our teacher candidates for their participation in this conference and the excellent job they did to promote acceptance and celebration of diversity, both inside and outside of the classroom," said Dr. Janette Hughes, Associate Professor and Acting Dean, Faculty of Education. "Bullying is a crucial education issue that must be addressed. The University of Ontario Institute of Technology is honoured to partner with the Durham District School Board and its Safe Schools program in fostering a safe, respectful environment within schools. We look forward to continuing working together in this unique partnership."
The conference theme was REACT Through the Arts: You Have a Voice. Students from grades 1 to 12 attended bullying awareness workshops, watched performances of original songs written by DDSB students, and toured a display of anti-bullying works of art created by local students. The conference coincided with Bullying Awareness and Prevention Week 2014.
Five Primary/Junior Education students from the university hosted a workshop for more than 30 students in grades 1 through 3, which focused on The Crayon Box that Talked, a book that teaches children to appreciate rather than dislike other people's differences. Participants listened to a reading of the book, and then worked together on an art activity.
"The workshop was based on the idea that, despite how different we may seem to one another on the outside, we can all work together co-operatively to create wonderful works," said Michael Craigen, Bachelor of Education, class of 2015. "When students work together in harmony and take into account input from all their peers, the tasks become richer and more meaningful, and the final product reflects each individual's strengths."
The group also participated in a unique collage art project. Every student who attended was able to contribute to the finished project.
"For our group of future Primary/Junior teachers, this conference was a valuable opportunity to work with school student leaders to convey the important message of anti-bullying and recognizing diversity as an asset to classroom learning," said Craigen. "The student representatives were then able to take this message back to their schools and classmates and help spread it in a strong, confident way."