UOIT Engineering graduate helps design a world of hope in Haiti
March 19, 2015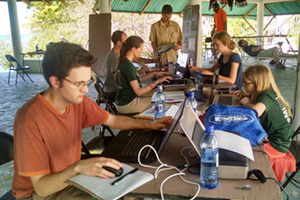 A university student never knows where their degree is going to take them upon graduation. In the case of University of Ontario Institute of Technology (UOIT) Faculty of Engineering and Applied Science graduate Chris Wilkinson (Electrical Engineering, 2014), it led to an international opportunity to apply the skills he learned at UOIT for humanitarian and missionary work.
Wilkinson recently travelled to Marotte, Haiti to join a team of architects and engineers from across North America who volunteered their time with Engineering Ministries International (eMi) Canada to provide master planning and design for a new children's centre in Haiti. The previous Welcome Home Children's Centre operated out of a rented facility that was at capacity and whose lease was expiring.
"I am proud and grateful to be part of eMi's efforts to help create this much-needed facility in Haiti," said Wilkinson. "My capstone project at UOIT, supervised by Dr. Walid Ibrahim Morsi, involved an off-grid power system similar to the one I'm now designing at eMi. That project was instrumental in preparing me for this trip. Working on such a system at UOIT gave me the knowledge both of what to look for when studying existing installations in Haiti and how this new system needs to function."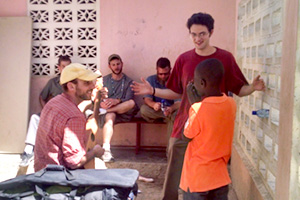 The eMi volunteers spent time developing the vision and master plan for an expanded facility, determining future programming, surveying the site and exploring infrastructure options.
"I used to think living off-grid was just a novelty, but there are people all over the world depending on this very technology for safety and communication," said Wilkinson. "I researched regional electrical practice and adapted it to the needs of our site. I was able to assist with the electrical design, with AutoCAD (computer-aided design software), and even with a bit of French translation."
Link to  eMi project information
For Wilkinson, the trip to Haiti was part of a larger experience with eMi Canada. He is currently interning with the organization in Calgary, Alberta, where he will finish up design work for the Welcome Home Children's Centre project as the team continues to work on more detailed elements of the design. eMi will provide Welcome Home with a final report and construction details in the late spring.
(with files from Engineering Ministries International Canada)
Gallery