Education graduate students showcase research at 2015 symposium
April 23, 2015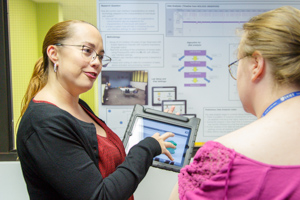 How can you help children and adults with autism learn to communicate better or learn new life skills? How do college faculty members decide which types of technologies they are going to use as part of their teaching curriculum?
These are just some of the questions graduate students in the University of Ontario Institute of Technology's Faculty of Education (FEd) explore in their research projects, which they showcased during a poster session at the recent Research in Education at UOIT: 2015 Symposium.
"We are pleased to have hosted yet another successful Research in Education Symposium at the University of Ontario Institute of Technology," said Dr. Roland van Oostveen, Associate Professor, FEd. "This event has grown exponentially over the years. It continues to provide an excellent platform for our Education faculty members and graduate students to present and explain their research to a wider audience. It is also an opportunity for undergraduate students to see what research in education is all about, and how they can get involved."
Here are some of the current research projects FEd graduate students are working on:
Jessica Clarkson: Exploring Situated Learning in Augmented Reality Apps for Adults with Autism Spectrum Disorder

Kevin Dougherty

: Understanding Motivating Factors that Influence College Faculty in Deciding to Adopt Digital Technologies in their Practice

April Stauffer: An Exploration of User Interface Characteristics of Augmentative and Alternative Communication Apps
The symposium also featured a virtual keynote address by Dr. Ann-Louise Davidson, Associate Professor, Department of Education, Concordia University, as well as presentations from several faculty and graduate student researchers. Links to the speakers' PowerPoint presentations are available on the 2015 Symposium page.
Gallery