In the name of charity, campus walkers and runners brave the elements
April 13, 2015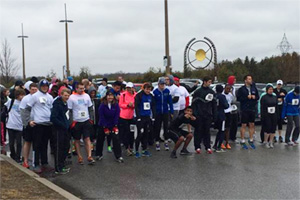 While the weather conditions may not have been entirely spring-like, dozens of University of Ontario Institute of Technology (UOIT) and Durham College (DC) students, staff, faculty, and community members put on their sneakers April 8 to support the eighth-annual Campus Charity Walk and Run for the Boys and Girls Club of Durham (BGCD).
The regular five-kilometre course route was cut a bit short this year because of the poor weather. Still, the hearty participants raised more than $3,300 for the BGCD's Youth Justice Program. Other runners included Durham Regional Police Service (DRPS) cadets, staff and youth from the BGCD, and students from G.L. Roberts Collegiate and Vocational Institute in Oshawa, Ontario. In addition, 28 volunteers assisted with setup and registration for the two-loop course at the joint UOIT-DC campus location in north Oshawa.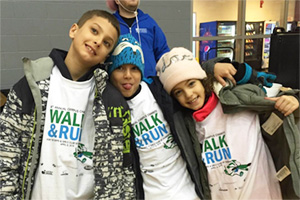 "This annual event is a sure sign of spring on campus and we are grateful for the support of so many people from across the community who recognize the importance of this cause," said event co-ordinator Dr. Carla Cesaroni, Associate Professor and Assistant Dean (Graduate Studies), UOIT Faculty of Social Science and Humanities. "The Boys and Girls Club of Durham provides children a safe and supportive place where children and youth can experience new opportunities, overcome barriers, build positive relationships and develop confidence and skills for life."
2015 awards:
UOIT/DC registered runners
Male

1. Matthew Hack  7:37
2. Tyler Tompsett  8:05
3. Ben Suter  8:21

Female

1. Johanna Tooners  10:14
2. Lori Wilson  10:50
3. Daria Ruginis  11:12
Faculty and staff runners
G.L. Roberts Collegiate and Vocational Institute
Male

1. Scott Valade  9:28
2. Kyle Watt  9:42
3. Demetrius Empey  10:14

Female

1. Christina Branch  9:29
2. Jolesha Allen  11:20
3. Sam Mclean  11:25
Durham Regional Police Service
Jeff Statham  12:16 (cadet instructor). Organizers say the DRPS team ran together and made sure Jeff crossed the line first.